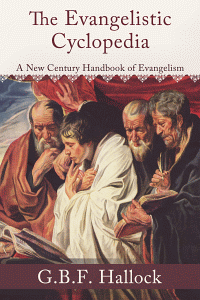 Evangelistic Cyclopedia
A New Century Handbook of Evangelism
This title works with the following Wordsearch products
Desktop
Product Details
This Cyclopedia or Handbook on Evangelism, with the ten notable evangelistic sermons appended, will be both a rich storehouse of material and a great inspiration to many a preacher.
Some of the chapters in this volume include:
The Need of Evangelism
Some Methods in Evangelism
Five Hundred Revival Texts and Themes
Four Hundred and Fifty Evangelistic Illustrations
Two Hundred Evanglistic Outlines and Sketches
Pastoral Evangelism
This work is timely. Without depreciating in any way the splendid work of our professional evangelists, the church is coming to see that the best of all is pastoral evangelism; and that becoming an evangelistic pastor is within the reach of every pastor who is willing to pay the price. It is an art, however, which must be acquired, as truly as a state of impassioned fervor for men's salvation.
This work will kindle a hot heart in both preacher and hearer with the fires of the Holy Ghost.
About the Author
Gerard Benjamin Fleet Hallock worked for over twenty years as assistant editor of "The Expositor" of Cleveland, Ohio, until he was promoted to Editor. He also served as one of the pastors of Brick Presbyterian Church in Rochester, New York.
In a home blessed with rare paternal piety, he learned the homiletic habit with his mother's earliest interpretations to him of both nature and Providence, the fruit of which has been evident in the maturing lives of other children also. His work at Princeton University, where he took his A.B. in 1882, and at Princeton Seminary, from which he graduated in 1885, followed by post-graduate work under President McCosh, laid the foundations for a corner in homiletic work of rare excellence. In this Handbook on Evangelism he has without doubt made his most valuable contribution.