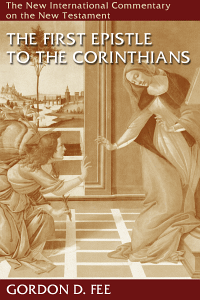 NICNT: First Corinthians, Second Edition
Product Details
About the New International Commentary
The New International Commentary combines readability with expert scholarship, and is highly regarded by theologians, preachers, and Bible students. The volumes in this commentary bridge the gap between today's world and that of Bible times.
Each commentary opens with an introduction to the biblical book and examines its background, authorship, date, purpose, structure, and theology. The authors, who are world-renowned biblical authorities, provide their own translation from the original language to form the basis of the commentary proper. Verse-by-verse comments nicely balance in-depth discussions of technical matters. What follows is a scholarly explanation of the text and its implications for today's application.
The original Hebrew and Greek texts are carefully studied, and critical comments are footnoted. Plus, all grammatical, textual, and historical details are appended. The commentary proper incorporates this information in a way that aids your understanding of the text.
The contributors to the New International Commentary aim to help you understand God's word as clearly as possible.
About 1 Corinthians
This landmark commentary, originally published in 1987, has been lauded as the best study available of Paul's theologically rich first letter to the Corinthians. Writing primarily for pastors, teachers, and students, Gordon Fee offers a readable exposition of 1 Corinthians that clearly describes the meaning of Paul's ideas and their larger theological relevance.
Fee's revised edition is based on the improved, updated (2011) edition of the NIV, and it takes into account the considerable scholarship on 1 Corinthians over the past twenty-five years. Fee has also eliminated "chapter and verse" language — totally foreign to Paul's first-century letter — relegating the necessary numbers for "finding things" to parentheses.
About the Author
Gordon D. Fee is professor emeritus of New Testament studies at Regent College, Vancouver, British Columbia, and former general editor of the New International Commentary on the New Testament series.
Check out a sample of this commentary by clicking on the yellow "Sample" button under the book cover on this page.
Endorsements
Fee has given us a paradigm of what a commentary should be. Even where one might disagree, no one — layperson, pastor, scholar, or student — will find Fee's volume a disappointment.