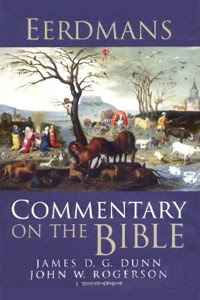 Eerdmans Commentary on the Bible
Highlights
13 major essays that introduce each section of Scripture and its studyEncapsulates in nontechnical language the best of modern scholarshipIncludes superb bibliographies and an extensive subject indexWritten by 67 first-rate Bible scholarsDesigned for use by scholars, students, pastors, and general readers
Product Details
The Eerdmans Commentary on the Bible (ECB) is an award-winning, one-volume commentary covering all 66 books of the Bible, plus the Apocrypha.
For more than a century, the Eerdmans Publishing Company has published excellent tools for ministry. Eerdmans is known for maintaining the highest of literary and intellectual standards. For this commentary, Eerdmans employed the services of 67 world-class scholars from a wide variety of backgrounds and faith traditions. These scholars offer fresh interpretations of the evidence, ask new questions of the text, and take what was once the concerns of the technical expert, making them manageable for the busy pastor, teacher, student, or layperson. The ECB encapsulates in nontechnical language the best of modern scholarship.
The ECB is very easy and enjoyable to read. The authors often deal with technical issues in the text, but manage to do so in a non-technical way. This makes for rapid understanding and learning. The ECB is packed with new insights that lie beyond the obvious.
Instead of a verse-by-verse analysis, the ECB keeps its focus on clarifying the meaning of each section of the Bible and how it is connected to the rest of Scripture. (Narrative, parable, prophetic oracle, etc.)
The ECB also provides 13 introductory articles that treat the biblical documents as both historical sources and Scripture.
Having the ECB in your WORDsearch digital library makes this tool more useful than a print volume. You have instant cross-referencing to other resources in your library, syncing with any of your Bible translations, and footnote pop-ups for easy reading by just hovering over the footnote hyperlinks.
Check out a sample by clicking on the Sample button.
About the Editors:
John Rogerson is professor emeritus of biblical studies at the University of Sheffield, England.
James D. G. Dunn is Lightfoot professor emeritus of divinity at Durham University and one of the most foremost New Testament scholars in the world today.
Endorsements
The Eerdmans Commentary on the Bible is the finest, most up-to-date single-volume Bible handbook now available. . . A virtual Goliath among midgets.