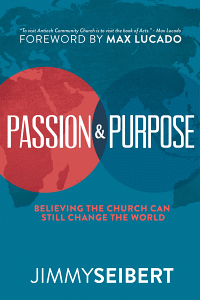 Passion & Purpose
Believing the Church Can Still Change the World
This title works with the following Wordsearch products
Desktop
Product Details
Passion & Purpose is about the people of God - His church - passionately pursuing Him and being deeply committed to His purposes. Nothing more. Nothing less. But the results are changing the world!
The journey of Antioch Community Church from beginning until today is a story of simplicity and devotion to Jesus ... a story of tremendous power, courage, and spiritual success. It is a captivating and stirring story of literally tens of thousands of lost people coming to Christ.
So what is their secret? The truth is Antioch is not doing anything new; everything they strive to become is straight from God's Word. What is unique about Antioch is their passion for Jesus and their sold-out commitment to pursuing His purposes.
This is a story of people who believe that the Church is still God's vehicle to change the world.
About the Author
Jimmy Seibert is the senior pastor of Antioch Community Church in Waco, Texas, as well as the founder and president of Antioch Ministries International (AMI). He has served the Antioch church in that role since its establishment in 1999.
Jimmy is passionate about loving God and making Him known in all the earth. He and his wife, Laura, have been involved in training and sending out church planters for more than twenty-six years, seeing hundreds of Christians go to the mission field. Their desire is to see the local church own the vision of establishing churches throughout the earth.
Throughout their humble journey of simple devotion and obedience, Jimmy, Laura, and those who have served with them at Antioch have been overwhelmed by the Lord s faithfulness, goodness, and power. Under their leadership Antioch Community Church has grown and impacted Waco, Texas, and planted 70 churches in the US and around the world.
Jimmy and his wife, Laura, have been married for twenty-seven years. Their children include their daughter Abby and her husband, Kyle Van Hecke, daughter Lauren, and two sons, Caleb, and Daniel.
Endorsements
To visit Antioch Community Church is to visit the book of Acts. To hear their passion is to hear the heart of God. To listen to the stories of their global impact is to realize ... it can happen today!
Passion and Purpose. Two words that resonate deeply with me and my love for the church. But this commitment and belief in the church is shared with amazing people like Pastor Jimmy Seibert. His endurance and loyalty to the local church has opened the door for many to hear the gospel, receive salvation, and be empowered to impact their community, both locally and globally.
Living for Christ with passion and purpose is truly an adventure and there has never been a more exciting time to be a part of His story. Jimmy Seibert and Antioch Community Church have been right in the middle of this. You will be inspired by their story and how they have seen God at work in their community and around the world.
The Antioch movement has spawned dozens of church plants throughout the United States, primarily among university communities, replicating the evangelizing, disciplining, sending paradigm that represents the cutting edge for fulfilling the Great Commission.
Antioch is built on a foundation of godly character, skilled competence, and clear strategy to ignite movements of disciples making disciples of Jesus among the least reached people of our world. Antioch goes around the corner and around the globe to serve the least and the lost.