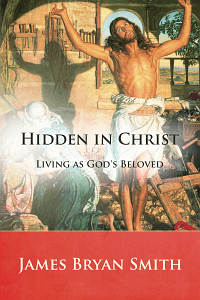 Hidden in Christ
Living as God's Beloved
Product Details
Words are powerful. They contain ideas and shape the way we see God, ourselves and all of reality. We're transformed, in particular, by God's Word, and by "the Word," the Logos—Jesus himself—as described by John in the first chapter of his Gospel.
Memorizing and studying a passage in depth can offer a deeper sense of the meaning of each word. In this unique introduction to the hidden life in Christ, James Bryan Smith walks readers through a thirty-day immersion in Colossians 3:1-17. Each of the thirty short chapters of this book bring out the main truth of just one word or phrase of this rich passage. You'll also find a very simple daily practice to take up, reflection questions and a guide for five weeks of group discussion.
The only way to tell a story is to use words. May the words of Colossians 3 become a companion to you as God continues to write your story.
Each chapter in this book is short in length, making it ideal to use as a daily devotional. Since there are thirty chapters, it could be used for a one-month introduction to the hidden life in Christ. Though brief in terms of length, each chapter tries to unearth some very deep truths. For this reason, the book could also be beneficial to more mature Christians who need to be reminded of the basic truths that guide our life with God. Put another way, the reader who is unfamiliar with the Apprentice series should find this book an easy access point into a deeper life with Christ. And for those who have read and practiced the exercises in the Apprentice series, this book will be a helpful refresher as you continue your sacred journey.
Each chapter contains an exercise or practice ("Living into the Truth"), as well as an affirmation that summarizes the main point of the chapter and a written prayer designed to move you deeper into the truths of the Word. In addition, each chapter concludes with a few reflection questions that can be used either by individuals or in a group discussion. Thus, this book can be used privately, or as a part of a small group.
The best way to get the most out of this book is to read the chapter, engage in the daily/weekly exercise, repeat the summative affirmation throughout the day or week, answer the questions using a journal, and then meet with a fellow Christ-follower to discuss it together.
About the Author
James Bryan Smith (M.Div., Yale University Divinity School, D.Min., Fuller Seminary) is a theology professor at Friends University in Wichita, Kansas, and a writer and speaker in the area of Christian spiritual formation. He also serves as the director of the Apprentice Institute for Christian Spiritual Formation at Friends University.
A founding member of Richard J. Foster's spiritual renewal ministry, Renovaré Smith is an ordained United Methodist Church minister and has served in various capacities in local churches. Smith is also the editor of A Spiritual Formation Workbook, Devotional Classics (with Richard Foster), Embracing the Love of God, and Rich Mullins: An Arrow Pointing to Heaven and Room of Marvels.
Endorsements
What a wonderful, life-giving book! Each chapter is a bite-sized morsel of substantive spiritual food that will nourish your life in Christ.
Much of our spirituality is a mile long and an inch deep. James Bryan Smith helps us go deeper. This book is based on one chapter of the Bible, and it is a dazzling one. On these pages, you'll find a countercultural invitation—an affront to the self-centered world of self-help books, blessing-obsessed televangelists and fluffy motivational messages. Here is an invitation to die to live, to find your life by giving it away. It's a smooth, easy-to-read book, but underneath it all is a radical message about reorienting our lives so that we look more like Jesus—and thereby interrupt the patterns of inequity and injustice that plague our world.
The third chapter of Colossians is one of the supreme passages in Scripture, brimming as it does with life-giving realities. Hidden in Christ can serve as a kind of midwife to help bring these realities to birth within us.
Jim Smith probes the great mystery of where our true life lies. He walks us through one of the great passages in all of Scripture so we may discover the life that is hidden only to be found.