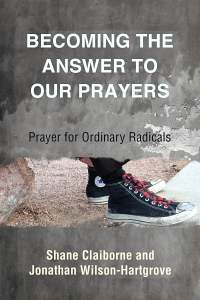 Becoming the Answer to Our Prayers
Prayer for Ordinary Radicals
Product Details
"Prayer is not so much about convincing God to do what we want God to do as it is about convincing ourselves to do what God wants us to do." —from the Introduction
Activists Shane Claiborne and Jonathan Wilson-Hartgrove show how prayer and action must go together. Their exposition of key Bible passages provides concrete examples of how a life of prayer fuels social engagement and the work of justice. Phrases like "give us this day our daily bread" and "forgive us our debts as we forgive our debtors" take on new meaning when applied to feeding the hungry or advocating for international debt relief.
If you hope to see God change society, you must be an ordinary radical who prays—and then is ready to become the answer to your own prayers.
About the Authors
Shane Claiborne is a preacher, writer and lover of Jesus. He attended Eastern University, where he studied sociology and youth ministry. Claiborne is cofounder of The Simple Way and is currently a part of The Alternative Seminary in Philadelphia, Pennsylvania. He serves on the board of the Christian Community Development Association. He is the author of The Irresistible Revolution and coauthor of Jesus for President.
Jonathan Wilson-Hartgrove (M.Div., Duke Divinity School) is director of the School for Conversion in Durham, North Carolina, where he is a member of the Rutba House new monastic community. He is the author of To Baghdad and Beyond and coauthor of Inhabiting the Church: Biblical Wisdom for a New Monasticism. He is also the coeditor of School(s) for Conversion: 12 Marks of a New Monasticism.
Endorsements
Claiborne and Wilson-Hartgrove have slipped the bonds of the ordinary and leapt the chasm of the customary. They have stood at brightly burning bushes that for most of us just won't catch fire. This book is a small invocation which, once prayed, calls for those who thought they knew the far country to see it for the first time. The far country is not so far as we supposed: it lies vivid and visible betwen our 'our Fathers' and our 'thy will be dones.'
Jonathan and Shane, contemplative activists, humble prophets, and sincere lovers of humanity and God, provoke a new way of understanding prayer. Avoiding the tendency to reduce prayer to 'three easy steps' or trite formulas, Jonathan and Shane press the integrity of our prayer lives by challenging us to live into our prayerfulness. Rather than suggesting prayer as wishful thinking or hopefulness wrapped around memorized bedtime recitations, Becoming the Answer to Our Prayers recovers the essence of truly prayerful life--it's the recovery of a sacrificial embodiment of our prayers. God's answer to our prayers might be as close, or as far away, as our willingness to be available as part of the solution. Jonathan and Shane make this simple truth accessible and available, inspiring us to an authentic prayer life--a life lived to answer prayers.
God always raises up new and courageous voices when the church is tempted to forget its own gospel. Here are two of those voices--and two who have been made into the answer to our own fervent prayers.
Who learns more fully about the importance of prayer than folks living in Christian community and engaged in social activism? The authors of this wonderful little book share graciously and truthfully from the spiritual wisdom they have gathered.