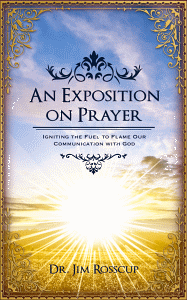 An Exposition on Prayer
Igniting the Fuel to Flame Our Communication with God
Highlights
4 Volumes
Introductions to every book of the Bible
Memorable outlines to help you get more out of your Bible study
Excellent, biblical insights to help you pray
An alphabetical index to hundreds of topics related to the subject of prayer
Product Details
Prayer appears in 61 of the 66 books of the Bible, and is one of the most fundamental disciplines of every believer. Dr. Jim Rosscup spent 15 years researching and writing An Exposition on Prayer, a commentary that walks you through each book of the Bible, stopping along the way to examine every act of prayer. It is a masterpiece of scholarship that covers the entire Bible in four volumes with a laser-like focus on prayer.
An Exposition on Prayer is written in a way you'll find useful for preaching and teaching. It covers every prayer and reference to prayer in the Bible. This includes the prayers of Christ, along with every man, woman, child, and even demons. Each time you consult this work while studying Scriptures, you'll notice that prayer pops up everywhere, almost like it has been hiding in plain sight. Rosscup will draw you in, showing how prayer plays a significant role in every book of the Bible except Esther, Song of Solomon, Obadiah, Haggai, and 2 John.
Rosscup certainly wrote this with the preacher and teacher in mind. He often outlines his points just like you would for a sermon or a lesson. He also finds a way to alliterate his points so they're ideal for preaching and teaching. For example, in Matthew 8 you'll find the prayer of the centurion. Rosscup's main points are titled:
The Entreaty of the Centurion
The Emphasis of the Centurion
The Exhibition of Jesus
Later in Matthew is the story Rosscup titles Prayer in the Terror of a Storm. His commentary is divided into these sections:
The Crisis on the Ship
The Cry of the Servants
The Calming of the Storm
The Consideration of His Sufficiency
The Bible makes over 1,000 references to prayer, and Rosscup takes us on a journey through each instance. Prayer is one thing we all do, yet all of us want to do it better. Imagine the benefits of injecting the element of prayer into every Scripture you study and every lesson you preach or teach. This is how An Exposition on Prayer can minister to you as you minister to others.
Check out a sample of this commentary by clicking on the yellow "Sample" button under the book cover on this page.
About the Author
Dr. Jim Rosscup has taught classes on the Old Testament and the New Testament for over 50 years. He studied under J. Dwight Pentecost at Dallas Theological Seminary, where he received a Th.D. in Bible. He obtained a Ph.D in New Testament at King's College, University of Aberdeen, Scotland, under the supervision of I. Howard Marshall. Rosscup joined the faculty of The Master's Seminary in 1987. He retired from full-time teaching in June, 2005, but continues to teach a course or two each semester.
Endorsements
This is the most comprehensive material that has ever been written on prayer. Jim Rosscup, in his usual and rich manner, has pulled together everything the Scripture has said on prayer and explained it. Not only is this a massive treatment from the Word of God, but from a man who, for twenty years, has been teaching a life transforming course on prayer at The Master's Seminary. He has been living out these truths and teaching thousands of young ministers to do the same with profound blessing.
Every reader will profit from the writer's carefully researched and nuanced observations and vibrant applications. What a gift this encyclopedic work is to the Church universal.
Often in commentaries, prayers in the Bible are afforded little attention. Dr. Rosscup's masterful and thorough exposition of biblical prayers is both insightful and inspirational.
Products Included In This Bundle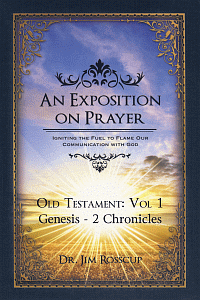 An Exposition on Prayer, Old Testament: Vol 1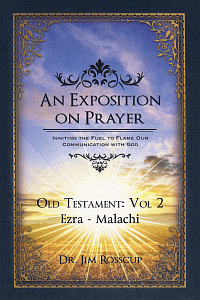 An Exposition on Prayer, Old Testament: Vol 2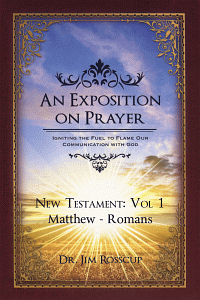 An Exposition on Prayer, New Testament: Vol 1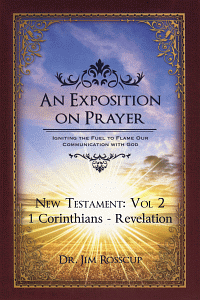 An Exposition on Prayer, New Testament: Vol 2