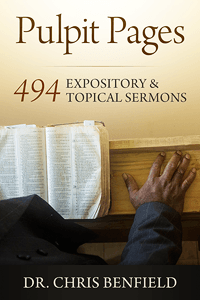 Pulpit Pages
494 Expository & Topical Sermons
Highlights
Includes Scripture-Synced Sermons feature
Product Details
Pulpit Pages is a remarkable collection of 494 expository and topical sermons by Dr. Chris Benfield. Packed with inspiration, truth, and practical lessons, this bundle is perfect for those who preach, teach, or enjoy studying God's Word.
If you are always looking for new ideas and sources of research for creating sermons and lessons, outlines and preached sermons like these give you a tremendous head start in preparation. In these pulpit-tested sermons, Benfield has covered a huge scope of Bible text. You'll find sermons from 25 books of the Old Testament and 24 books of the New Testament. An entire section of expository topical sermons are also included.
Benfield's sermon outlines are precise, they hold to the Bible text, and they are alliterated. His writing and preaching are both informative and inspiring. Those who hear these sermons will come away with a vivid understanding of the Bible text and story behind each lessons. Simultaneously, Benfield skillfully pulls the truths out of each story, holds them to the light, and inspires us to apply each lesson to our lives today.
Pulpit Pages takes advantage of a feature we've built into Wordsearch called Scripture-Synced Sermons. You already know how helpful syncing can be when you open Bibles and commentaries in Wordsearch. They stay in sync and scroll together. This is now possible with certain sermon collections.
Check out a sample by clicking on the Sample button.
About the Author
Christopher R. Benfield received a Bachelor and Master of Divinity from the West Lenoir Baptist School of Ministry. He received his Doctorate of Ministry from Anderson Theological Seminary, and serves as a pastor at Fellowship Missionary Baptist Church in North Carolina.
Products Included In This Bundle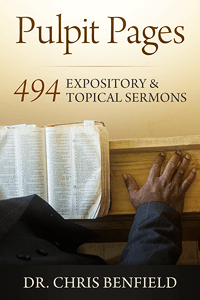 Pulpit Pages: Old Testament Sermons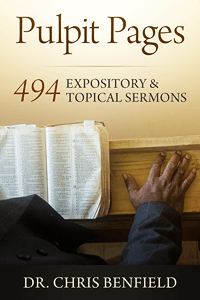 Pulpit Pages: New Testament Sermons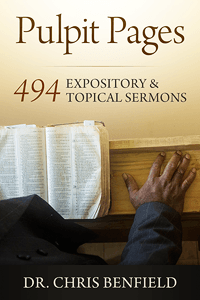 Pulpit Pages: Topical Sermons