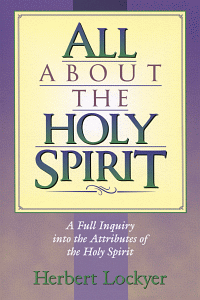 All About the Holy Spirit
A Full Inquiry into the Attributes of the Holy Spirit
Product Details
The classic "All" series books have graced the shelves of pastors, students, and laypeople alike for decades. All about The Holy Spirit continues in the series' tradition of offering a faithful and comprehensive treatment of biblical subjects.
In this work, Dr. Herbert Lockyer examines virtually every biblical reference to the Holy Spirit. He explores the Holy Spirit as part of the Trinity and the Holy Spirit in relationship to the believer. As part of the divine Trinity, the Holy Spirit is one with the Father and the son and yet has a unique personality and function. "He who is the breath of God" also has a special relationship to the believer; He enables the believer to live a Spirit-filled life evidenced by the fruit and fullness of the Spirit. Lockyer writes, "A deficient study of the third Person of the Trinity has resulted in dryness of spiritual experience." This book offers a solution. Lockyer's careful study is coupled with a warm pastoral approach, making this book food for the mind and heart.
About the Author
Dr. Herbert Lockyer was born in London in 1886, and held pastorates in Scotland and England for 25 years before coming to the United States in 1935. In 1937 he received the honorary Doctor of Divinity degree from Northwestern Evangelical Seminary. In 1955 he returned to England where he lived for many years. He then returned to the United States where he continued to devote time to the writing ministry until his death in November of 1984.