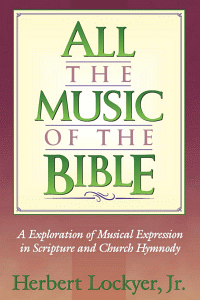 All the Music of the Bible
Product Details
In All the Music of the Bible, Rev. Herbert Lockyer Jr. presents the songs, musical methods, and instruments employed by the people of God. His insights into biblical theology include musical analogies and cover the many functions of musical expression. Lockyer also reviews the music of the church from the New Testament through the Reformation. Illustrations of the musical instruments mentioned in the Bible, and descriptions of their sounds and uses in worship will whet the appetites of musicians, music-lovers, and Christians with a song in their hearts for all the music of the Bible.
All the Music of the Bible is part of the classic "All" series books that have graced the shelves of pastors, students, and lay people for decades. This book continues the series' tradition of offering a faithful and comprehensive treatment of biblical subjects.
About the Author
Dr. Herbert Lockyer was born in London in 1886, and held pastorates in Scotland and England for 25 years before coming to the United States in 1935. In 1937 he received the honorary Doctor of Divinity degree from Northwestern Evangelical Seminary. In 1955 he returned to England where he lived for many years. He then returned to the United States where he continued to devote time to the writing ministry until his death in November of 1984.
Endorsements
. . . a relaxed yet informative look at the instruments, singing, songwriting, and music performance in the Bible."
This book is well written, informative and enjoyable reading. There are excellent notes, helpful appendices, sketches and bibliography. A valuable music resource for all congregational libraries and an excellent reference for church musicians.
It is an ambitious goal to describe 'All the Music of the Bible' in just over 200 pages. Lockyer states his intent is to speak in simple terms and in that effort is quite successful. This is a book intended for the laymen to enjoy.
This is a melodious offering that should find its way on to the shelves of every church library. It will be music to the ears of students and pastors for its straightforward and unpretentious style. It is the everyperson's comprehensive source on Biblical music, leaving the minutiae to other sources and providing a well-rounded and inclusive foundation that will inspire readers to spend more time making music that reading about it.
This popular but instructive account of music, musicians, and musical instruments in the Bible includes a few illustrations, notes, and a bibliography. Though not addressing scholars, a wide audience is well served.