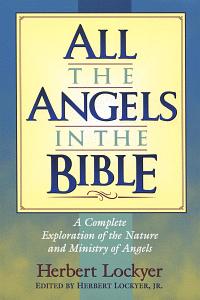 All the Angels of the Bible
A Complete Exploration of the Nature and Ministry of Angels
Product Details
The classic "All" series books have graced the shelves of pastors, students, and laypeople alike for decades. All the Angels in the Bible continues in the series' tradition of offering a faithful and comprehensive treatment of biblical subjects.
Lockyer shows us that the Bible speaks clearly about angels. He lists every biblical reference to angels and describes the angels of the Old Testament and the angels of the New Testament. Through angels, God has provided for centuries of believers. Lockyer's book encourages us that god will continue this provision.
About the Author
Dr. Herbert Lockyer was born in London in 1886, and held pastorates in Scotland and England for 25 years before coming to the United States in 1935. In 1937 he received the honorary Doctor of Divinity degree from Northwestern Evangelical Seminary. In 1955 he returned to England where he lived for many years. He then returned to the United States where he continued to devote time to the writing ministry until his death in November of 1984.