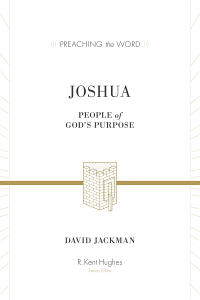 Preaching the Word - Joshua
People of God's Purpose
Product Details
Following closely on the heels of the Exodus story, the book of Joshua recounts the mighty acts of God as he fulfills his promises to Abraham, Isaac, and Jacob. It is, quite profoundly, a testimony to God's awesome power and enduring faithfulness.
Written to aid pastors in their preaching and churches in their reading, this accessible commentary guides us through the history of Joshua's leadership in Israel and God's direction of his covenant people to their promised "rest" in the land of Canaan.
With warmth and wisdom, David Jackman ultimately encourages us to trust God's promises more deeply and obey his commands more wholeheartedly—that we might fully enjoy all the blessings secured for us in and through our Joshua—Jesus Christ.
About the Series
This Gold Medallion Award-winning series is noted for its unqualified commitment to Biblical authority, clear exposition of Scripture, readability, and practical application. What you get is a systematic explanation of each text in an easy-to-read and practical format. Each commentary is amplified with illustrations and applications that you can take right to the pulpit.
About the Author
David Jackman (MA, Cambridge University) is a renowned Christian speaker and author. In addition to serving as a visiting lecturer at London's Oak Hill Theological College, he is also a former president of The Proclamation Trust, a ministry dedicated to encouraging and equipping Bible teachers around the world.
About the General Editor
R. Kent Hughes is Senior Pastor Emeritus of College Church in Wheaton, Illinois. Hughes is the author of numerous books and is also the editor and contributor for Preaching the Word series, including Mark: Jesus, Servant and Savior, which received the E.C.P.A. Gold Medallion Book Award for best commentary in 1990. Hughes served as Senior Pastor of College Church for 27 years and retired at the end of 2006. He came to Wheaton from California where he pastored two churches. He holds a BA from Whittier College, an MDiv from Talbot School of Theology, a DMin from Trinity Evangelical Divinity School and a DD from Biola University. Currently he lives in Washington state with his wife, Barbara, and he is the father of 4 and grandfather of 21 children.
Endorsements
Having been frustrated by so many learned Old Testament commentaries, which may be full of good scholarship but offer little help to preachers, it is a joy to recommend such a fine book, which is so clearly the work of someone who is a very fine preacher himself. It is marked by careful exegesis, which reveals the main thrust of Joshua as a whole and each major section without getting lost in unnecessary details. All the big questions the preacher and congregation will ask are addressed and there are excellent pointers to application. It provides fuel, not only for our preaching, but for our hearts and lives.
Here is another excellent commentary, which combines great insights of exegesis, theology, relevance, and pastoral application. Every page is enriched by David's extensive experience and wisdom in understanding and preaching the Bible. This commentary is ideal for those preparing to teach or preach the book of Joshua, as it is also invaluable for Christians who want to understand the book of Joshua and read it for personal encouragement. I praise God for David's ministry.