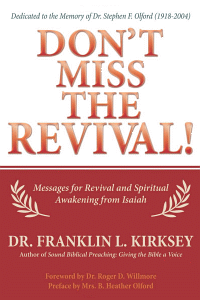 Don't Miss the Revival!
Messages for Revival and Spiritual Awakening from Isaiah
Product Details
Spiritual coldness, dryness, and listlessness are signs and symptoms revealing a personal need for revival. In Don't Miss the Revival! author Dr. Franklin L. Kirksey offers scriptural prescriptions for revival and spiritual awakening based upon God's Word. He shares hope for the nation and the world from the book of Isaiah, coupled with an overview of genuine revival, highlighting the Keswick pattern of dealing with sin, sanctification, surrender to the Lordship of Jesus Christ, the Spirit-filled life, and service.
Providing in-depth inspirational biblical guidance to promote spiritual growth, Don't Miss the Revival! offers a path to experience a reawakening of a desire for the manifest presence and power of the Lord in your life and ministry. It challenges you to seek the Lord with every fiber of your being. Drink deeply from the fountain of divine truth, and share these rejuvenating concepts with others.
About the Author
Dr. Franklin L. Kirksey was born on November 22, 1961 in Mobile, Alabama and was born again on May 16, 1965 in Citronelle, Alabama. Kirksey was called to the ministry after high school graduation in 1979 and has been a pastor for almost twenty years.
He received his B.A. degree (cum laude) from William Carey University, Mississippi, in 1983 where he was inducted into the Alpha Chi National Honor Society; the M.Div. degree from New Orleans Baptist Theological Seminary, Louisiana, in 1986; the D.Min. degree from Southern Baptist School for Biblical Studies, Florida, in 2001. He was inducted into the R.G. Lee Society of Fellows at Union University, Jackson, Tennessee in 2002.
Dr. Kirksey is pastor of First Baptist Church of Spanish Fort, Alabama where he has served since 2004. He has published messages in Pulpit Helps magazine, and PastorLife. Kirksey writes newspaper columns for the Call News, Citronelle, Alabama and the Press -Register, Mobile, Alabama.