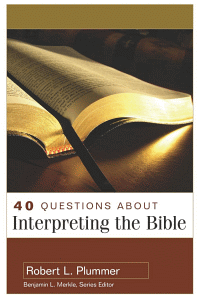 40 Questions About Interpreting the Bible
Product Details
The second in the 40 Questions & Answers Series organized around FAQs, 40 Questions about Interpreting the Bible tackles the major questions that students, pastors and professors ask about reading and understanding the Bible. The book is divided into four parts: getting started, approaching the bible generally, approaching specific texts, and issues in recent discussion. This accessible format allows teachers to utilize this book as a textbook and the curious student to understand the issues which are most pertinent to their study. 40 Questions About Interpreting the Bible will be essential reading for the student seeking to advance in biblical studies and for the pastor looking to teach the Bible with confidence.
About the Author
Robert L. Plummer (PhD, Southern Baptist Theological Seminary) is associate professor of New Testament Interpretation at Southern Baptist Theological Seminary. A Bible scholar with a missionary heart, he has written Paul's Understanding of the Church's Mission and many journal articles. He is a member of the Evangelical Theological Society and the Institute for Biblical Research.
About the Series Editor
Benjamin L. Merkle (PhD, Southern Baptist Theological Seminary) is associate professor of New Testament Greek at Southeastern Baptist Theological Seminary and is the author of numerous journal articles.
Endorsements
Read this excellent primer and read the Bible better as a result.
Aristotle once said that those who wished to succeed must ask the right preliminary questions. Plummer asks forty of them. Even better: he answers them, providing beginning students with all they need to know about biblical interpretation in general and the specific kinds of texts found in the Old and New Testaments in particular.
How approptiate that Plummer's 40 Questions About Interpreting the Bible is itself eminently understandable, crystal clear, and thoroughly engaging. The organization and breadth of coverage make this book both a delight to read and highly instructive....I can't imagine a more helpful introduction to the subject of biblical interpretation.
It is a wonderful thing to teach a person the Bible. It is even more wonderful to teach people how to study the Bible for themselves. Plummer has given us a helpful survey relative to how to understand the Bible. You will profit greatly from his insights.