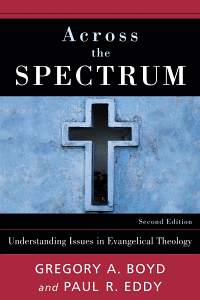 Across the Spectrum
Understanding Issues in Evangelical Theology
Product Details
This new edition of a popular text presents an accessible and comprehensive primer that helps readers understand the breadth of viewpoints on major issues in evangelical theology, with chapters using the popular three- or four-views book format. The authors carefully examine positions taken by evangelical scholars on seventeen seminal issues. They lay out the biblical, theological, and philosophical arguments for each position in point-counterpoint fashion and discuss possible objections.
The second edition retains the helpful features of the first edition and adds an appendix that addresses thirteen peripheral issues in contemporary evangelicalism.
About the Author
Gregory A. Boyd (PhD, Princeton Theological Seminary), formerly professor of theology at Bethel University, is senior pastor of Woodland Hills Church in St. Paul, Minnesota, where average attendance has grown to 5,000 since he helped plant the church in 1992. He is the author of many books, including the critically acclaimed Seeing Is Believing and the best-selling Gold Medallion Award-winner Letters from a Skeptic. He is also coauthor of The Jesus Legend.
Paul Rhodes Eddy (PhD, Marquette University) is professor of biblical and theological studies at Bethel University in St. Paul, Minnesota. He has coedited four successful multi-view volumes and is the author or editor of a number of other books, including The Jesus Legend.
Endorsements
A very useful tool for those who wish to begin grappling with different approaches to difficult theological problems. The book will be most helpful to beginning students in evangelical theology. . . . If used with care, it will repeatedly reward the reader with its fair and even treatment of different theological views.
The authors have done a great service by bringing together in one volume an eminently useful summary of the main theological debates within evangelicalism. The chapters provide biblical and theological support for each position and demonstrate how each view answers the principle objections raised against it. The presentations are relevant, up-to-date, and incredibly evenhanded (no view is downplayed or criticized). Professors from all perspectives will find this work extremely helpful for introducing students to the issues in an unbiased manner. Beginners will benefit from the clear writing, glossary, and suggestions for further reading. This is a tremendous educational resource.
A collective sigh of relief will arise from the evangelical student body when it discovers this book! Across the Spectrum more than satisfies a felt need in evangelical scholarship. It helpfully and critically surveys the many legitimate evangelical theological options and convincingly demonstrates that there is no single authentically evangelical viewpoint on a wide range of controversial issues. It constitutes a small library between two covers.