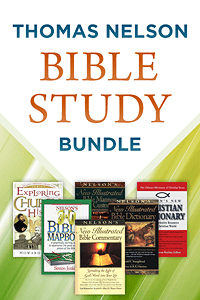 Thomas Nelson Bible Study Bundle
6 Volume Library
This title works with the following Wordsearch products
Desktop
Product Details
The Thomas Nelson Bible Study Bundle includes 6 volumes to improve your study of God's Word. Each of these works is richly illustrated with colorful and graphic photographs, charts, maps, and illustrations. These volumes are designed to enhance your studies of the Bible and Christian faith. The bundle includes:
Nelson's New Illustrated Bible Dictionary
This is a comprehensive, single-volume Bible dictionary with over 7,000 concise entries by many of the world's most respected evangelical scholars. Used alongside your Bibles and other tools, this handy reference will enrich your studies of any Bible person, place, or thing. It features cross-references to six major Bible translations, plus The Visual Survey of the Bible, over 500 color photos and 3-D maps, outlines, and articles.
Nelson's New Illustrated Bible Commentary
You'll gain insight from this concise, verse-by-verse commentary that is packed with articles, maps, charts, and illustrations. You'll find clear and comprehensive annotations by leading evangelical scholars. Alternative views are presented fairly, but commentators make their positions clear. You will appreciate the colorful graphics that fully illustrate the commentary and articles.
Nelson's New Illustrated Bible Manners and Customs
This is the most comprehensive, up-to-date, and accurate information on life in Bible times available in a single volume for the Bible student. You'll learn how the people of the Bible lived in cultures that were far different from our own. This work traces everyday Bible life from Genesis through Revelation, and includes more than 400 full color and black & white photographs.
Nelson's New Christian Dictionary
This work provides you with articles on over 8,000 words in a crisp and easy-to-understand format. It covers everything related to Christianity—doctrine, worship, liturgy, literature, history, music, and more. You'll find lists and overviews of key subjects such as: 100 Most Important Events in Christian History, A Century-by-Century Survey, Great Hymns, Key Christian Books and Authors, and more. You'll also find a helpful denominational comparison chart, contrasting the beliefs of various denominations. Plus The Nelson's New Christian Dictionary includes over 500 photos, charts, and tables to enhance your study.
Nelson's 3-D Bible Mapbook
Pastors, teachers, and Bible students will enjoy this colorful, three-dimensional Bible map experience. Key Bible events, places, journeys, and battles spring to life through 3-D maps that give you a close-to-the-ground perspective of the action. This work also includes fascinating background commentary that puts you on location. Whether you are studying the Exodus from Egypt or the building of the Temple in Jerusalem, you'll feel like you have an insider's view of the time and place.
Exploring Church History
This fascination reference work is a comprehensive yet concise tour of the events and personalities that have marked the growth of the Christian church over the last 2,000 years. It includes the most up-to-date information and data available on worldwide Christianity. This work is lavishly illustrated with charts, tables, and maps throughout.