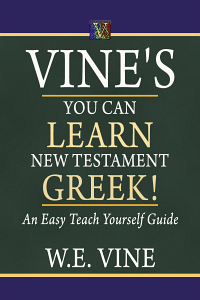 Vine's You Can Learn New Testament Greek
Product Details
He wrote the expository dictionary you've trusted for years...now let him teach you Greek! This book was created by New Testament scholar W.E. Vine, the author of the world's most-used expository dictionary, to be a self-study course. Here is an effective "teach yourself" guide for those who have no previous knowledge of Greek.
Vine's You Can Learn New Testament Greek is an ideal study tool. It offers:
User-friendly easy-to-understand text, pefect for self study
An all-in-one grammar and lesson book
Charts, tables, and diagrams for better comprehension
Students, teachers, pastors, and laypeople will find this the easy way to learn the basics of New Testament Greek on their own. As a beginner, you'll start by learning the Greek alphabet and by the third lesson you'll be reading Greek from the New Testament!
About the Author
W.E. Vine, M.A., was known in his day (1873-1949) as a classical scholar, a skilled expositor, and an acute theologian. Recognized as one of the world's foremost Greek scholars, his Expository Dictionary of New Testament Words, first published in 1939, now available in Vine's Complete Expository Dictionary of Old and New Testament Words, represents the fruit of his lifetime labors and is an unsurpassed classic in its field.
Endorsements
Mr. Vine shows how great a service can be rendered to the Church by well-balanced, all-round scholarship when it is combined with reverent submission to the Word of God and spiritual insight into its meaning.