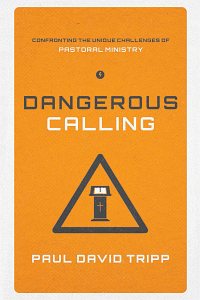 Dangerous Calling
Confronting the Unique Challenges of Pastoral Ministry
Product Details
After traveling the globe and speaking to thousands of churches worldwide, Paul David Tripp has discovered a serious problem within pastoral culture.
He is not only concerned about the spiritual life of the pastor, but also with the very community of people that trains him, calls him, relates to him, and restores him if necessary.
Dangerous Calling reveals the truth that the culture surrounding our pastors is spiritually unhealthy—an environment that actively undermines the wellbeing and efficacy of our church leaders and thus the entire church body.
Here is a book that both diagnoses and offers cures for issues that impact every member and church leader, and gives solid strategies for fighting the all-important war that rages in our churches today.
About the Author
Paul David Tripp is the president of Paul Tripp Ministries, professor of pastoral life and care at Redeemer Seminary, and the executive director of the Center for Pastoral Life and Care, under the auspices of the Association of Biblical Counselors. He is the author of a number of popular books on Christian living, including What Did You Expect?, Whiter Than Snow, A Shelter in the Time of Storm, Dangerous Calling, Sex and Money, and New Morning Mercies. He has been married for many years to Luella and they have four grown children.
Endorsements
My friend Paul Tripp shines the spotlight of God's Word into the heart of every pastor in this book, Dangerous Calling. If you have been in ministry for 20 minutes or 20 years, I commend it to you. Approach it prayerfully, passionately, and be prepared for the change God will make in your heart, life, and ministry.
This book is 'good' in the same way that heart surgery is good. It's painful and scary and as you read it you'll be tempted to run away from the truth it contains. But it just might save your life. Pastors need this book. I know I really needed it. It challenged me and rebuked me even as it gave me hope and fresh faith in God for pastoral ministry.
This is a book every person in ministry should read. It will cut you to the heart and bring massive conviction, but also it provides biblical remedies for healing. I would love to put this book in the hand of every seminarian who walks on my campus.
Tripp has done it again. With probing insight and robust realism, he takes an honest look into the challenges that are unique to, or intensified by, pastoral ministry. Gospel-centered and grace saturated to the core, Dangerous Calling is a must read.
If this book were a sermon, it would be the most weighty and refreshing sermon you've ever needed to hear. My sincere hope is that this book would be translated into multiple languages, become required reading in seminaries, and be distributed to Christians everywhere.