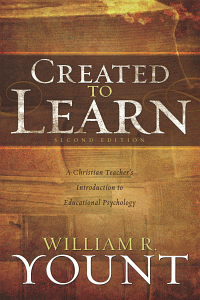 Created to Learn
A Christian Teacher's Introduction to Educational Psychology
Product Details
This revised and expanded second edition of Created to Learn—an ECPA Gold Medallion Award finalist—shows teachers how to organize and tailor classroom instruction to fit the learning styles of their students. In a real sense, author William R. Yount takes the theories of teaching and learning and brings them to life inside the classroom. Updated content includes:
New research into learning theories, including discoveries in the field of neuroscience.
New chapterse on the developing fields of Constructivism—cognitive, social, and radical—and brain-based learning.
Updated applications of educational research from Yount's extensive teaching experiences in other countries.
Full rewrite of the original text with new material targeting behavioral, cognitive, and humanistic learning theory systems, designing instructional objectives, and evaluating proposed educational implications of the revolution in brain science.
About the Author
William R. "Rick" Yount has served as professor of Foundations of Education at Southwestern Baptist Theological Seminary (SWBTS) in Fort Worth, Texas, since 1981. He holds degrees from University of Maryland (B.S. in Psychology and Counseling, 1973), SWBTS (M.A.R.E., 1875, Ph.D. in Foundations of Education, 1978), and UNiversity of North Texas (Ph.D> in Educational Research, 1985.)
Endorsements
Yount's application to ministry is so 'user friendly' that my students had no difficulty applying educational psychology to their own ministries—exactly what I wanted them to do! This will be the only book I'll use on the subject for both my undergraduate and seminary classes!
Dr. Yount's work provides key insight into the role of 'Designer-God' in any learning environment. Christian schoolteachers would do well to spend more time examining the growing body of scientific knowledge that illuminates the inner workings of the minds that enter our classrooms. This text is a great place to start.
Educational psychology introduces teacher candidates to a vast amount of new information. Many times I have struggled to help students associate their own experiences in learning with the theories of Kohlberg, Bandura, Piaget, Vygotsky, and others. We have found that Created to Learn embeds educational psychology in what is familiar to Christian students: biblical principles of learning and instruction. Created to Learn strongly weaves a thread between the two, integrating them yet maintaining the integrity of each. This approach produced significantly greater student comprehension of educational psychology this term than last, when we used a different text.