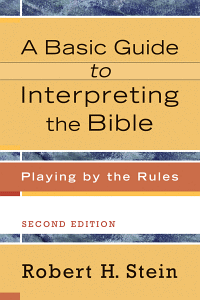 A Basic Guide to Interpreting the Bible
Playing by the Rules
Product Details
In this accessible guide to interpreting the Bible, senior New Testament scholar Robert Stein helps readers identify various biblical genres, understand the meaning of biblical texts, and apply that meaning to contemporary life. This edition has been completely revised throughout to reflect Stein's current thinking and changes to the discipline over the past decade. Students of the Bible will find the book effective in group settings.
About the Author
Robert H. Stein (PhD, Princeton Theological Seminary), now retired, most recently served as senior professor of New Testament interpretation at The Southern Baptist Theological Seminary. He previously taught at Bethel Seminary. A world-renowned scholar of the Synoptic Gospels, he is the author of several books, including Mark in the Baker Exegetical Commentary on the New Testament, Studying the Synoptic Gospels, Luke, and Jesus the Messiah.
Endorsements
Bob Stein is a wise and seasoned interpreter of Scripture, and these qualities are on full display in this wonderfully practical book on how to interpret the Bible. Readers will find here a sound hermeneutical approach that is applied to a variety of genres in the Scriptures. This is an ideal book both for university and seminary courses and for laypersons who desire a guide to understanding the Scriptures.
In lucid and engaging style, Robert Stein explores an author-centered hermeneutic for biblical interpretation. The reader benefits from clear definitions of key concepts and creative examples of these concepts in action, as well as exercises that can be used to augment the learning process. An accessible introduction to a complex topic.