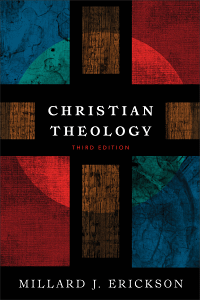 Christian Theology
Third Edition
Product Details
Leading evangelical scholar Millard Erickson offers a new edition of his bestselling textbook, now substantially updated and revised throughout. This edition takes into account feedback from professors and students and reflects current theological conversations, with added material on the atonement, justification, and divine foreknowledge. Erickson's comprehensive introduction is biblical, contemporary, moderate, and fair to various positions, and it applies doctrine to Christian life and ministry.
About the Author
Millard J. Erickson (PhD, Northwestern University) has served as a pastor and seminary dean and has taught at several schools, including Southwestern Baptist Theological Seminary, Western Seminary (Portland and San Jose), and Baylor University. He has also held numerous visiting professorships, both in the United States and internationally, and is the author of many books, including Christian Theology.
Endorsements
Millard Erickson's Christian Theology is irenic in tone while incisive in critique, readable in format while substantial in content, and always faithful to Scripture and to the service of God's church. The third edition will guide another generation through the ever-changing context in which theology must be done.