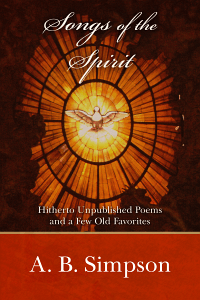 Songs of the Spirit
Unpublished Poems and a Few Old Favorites
This title works with the following Wordsearch products
Desktop
Product Details
Songs of the Spirit is a collection of A.B. Simpson's poetical writings and hymns that were published after his death as a tribute. The publishers of this volume found a large number of his manuscripts, some that were uncorrected and in the form of how they flowed out from Simpson's heart, and gathered them together.
Literary critics have recognized Simpson's work as poetic genius, but Simpson himself gave all the credit to the Lord. He stated that he never wrote a poem until the Spirit filled him with "psalms and hymns and spiritual songs." These poems were written around the world - some in Jerusalem, some on the Red Sea, others in the Far East during his first missionary journey. He created some of these poems while he was preparing his sermons so they could be sung during church at the Gospel Tabernacle in New York City where he pastored.
Check out a sample by clicking on the Sample button.
About the Author
Albert Benjamin Simpson received his theological training in Toronto at Knox College, University of Toronto. Ordained in the Canada Presbyterian Church, Simpson accepted a call to Knox Presbyterian Church at age 21. By 30, Simpson left Canada and became the pastor of the largest Presbyterian church in Louisville, Kentucky. In 1880, Simpson moved to the Thirteenth Street Presbyterian Church in New York City where he immediately began reaching out to the world with the gospel. Beside active evangelistic work in the church, he published a missionary journal, The Gospel in All Lands, the first missionary journal with pictures. Simpson also founded and began publishing an illustrated magazine entitled The Word, Work, and World.
But after two years at Thirteenth Presbyterian, he resigned in order to begin an independent gospel ministry to the many new immigrants and the neglected masses of New York City. Simpson began informal training classes in 1882 in order to reach "the neglected peoples of the world with the neglected resources of the church." By 1883 a formal program was in place and ministers and missionaries were being trained in a multi-cultural context. (This school was the beginning of Nyack College and Alliance Theological Seminary). In 1889, Simpson and his church family moved into their new home called the New York Tabernacle.
During the beginning of the twentieth century, Simpson became closely involved with the growing Pentecostal movement. It was common for Pentecostal pastors and missionaries to receive their training at the Missionary Training Institute--now Nyack College--that Simpson founded.