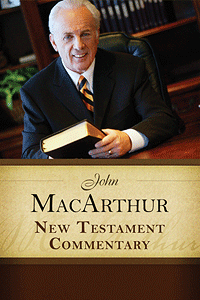 MacArthur New Testament Commentary - 33 Volume Bundle
Highlights
Over 1 million copies of The MacArthur New Testament Commentaries sold to date
Considered the premier New Testament Commentary series, used worldwide by pastors, teachers, and students of the Bible
Not linguistically or theologically technical, but explanatory
Named as one of the 850 Books for Biblical Expositors by the Master's Seminary
Product Details
John MacArthur is known worldwide as an outstanding theologian, author, and champion of expository preaching. His MacArthur New Testament Commentary is one of today's top-selling commentary series with over 1 million copies sold to date.
In each volume, MacArthur carefully takes each passage of Scripture, brings out truth and doctrine, and then explains how this relates to the whole, big picture of the Bible. He connects the Scriptural dots, using Scripture to shed light on other Scripture.
In this expository commentary, MacArthur provides verse-by-verse analysis within the context. With focus on the meaning and context, each passage is then reflected on, followed by points of application. The application is practical and relevant. It is not linguistically technical but will deal with linguistics when MacArthur feels it is helpful. It also focuses on major doctrines and how they relate to Scripture.
The MacArthur New Testament Commentary is thorough, and MacArthur will sometimes get more out of one verse than many commentaries will get out of an entire chapter.
In Wordsearch, you can have your Bible open to whatever passage you are studying alongside the MacArthur New Testament Commentary. You can also easily hover over any other Bible verses he cross-references to read them without losing your place.
MacArthur's precise, accessible, and unique analysis of the text is incredibly helpful for those who preach, teach, or love to study God's Word.
Check out a sample of this commentary by clicking on the Sample button on this page.
About the Author
John MacArthur, Jr. pastors Grace Community Church in Sun Valley, California, and serves as President of the Master's College and Seminary. A well-known Bible expositor and conference speaker, he has written numerous books. He is also the Bible teacher on "Grace to You", an international radio broadcast.
Endorsements
The MacArthur New Testament Commentary is nothing less than a library of faithful exegesis and exposition. This project is unparalleled in our times, and John MacArthur has produced a masterful commentary series that demands attention and deserves a place in every preacher's library—where it should be kept close at hand. These commentaries remind us all that expository preaching is very much alive. Each new volume should be greeted with enthusiasm and gratitude.
This commentary not only illumines the biblical text, but has practical application that is personally beneficial, and also relevant or those teaching and preaching the Word. I personally turn to these commentaries often to help me interpret the text and find those transforming principles intended to change our lives.
Products Included In This Bundle