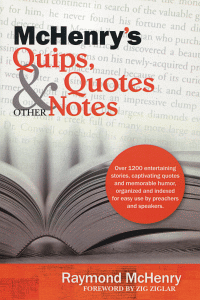 McHenry's Quips, Quotes and Other Notes
Product Details
Packed with over 1200 entertaining stories, quotes, and humor, McHenry's Quips, Quotes & Other Notes can add interest to any article, presentation, or sermon with startling statistics and little-known facts. The book is alphabetized by topic, so it's easy to find that perfect story or joke regarding church, family, life, politics, sports, work, and more.
About the Author
Dr. Raymond McHenry is pastor of the Westgate Memorial Baptist Church, and he and his family live in Beaumont, Texas. He earned his Master of Divinity and Doctor of Ministry degrees at Southwestern Baptist Theological Seminary.
Endorsements
For those who enjoy a good smile or a soft chuckle, there's something here for you. For those who are story-tellers in life or ministry, here is an invaluable resource for you. . . . I highly recommend it.