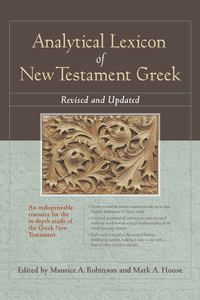 Analytical Lexicon of New Testament Greek
Product Details
Coded to the Revised Strong's Numbering System
The Analytical Lexicon of New Testament Greek, a revised and updated edition of Perschbacher's The New Analytical Greek Lexicon, is an invaluable resource for the study of the Greek New Testament. Based on a corrected and expanded computer database, this new edition provides detailed grammatical analyses (parsing) and definitions of all the Greek words in the New Testament—information essential for correct translation and interpretation. A host of additional features make the Analytical Lexicon an essential addition to the library of any biblical student or scholar:
Analyzed words represent several major editions of the Greek New Testament
Updated dictionary entries provide helpful English definitions for the entire New Testament vocabulary
Each Greek word is keyed to the revised Strong's numbering system, making it easy to use with a host of other language resources
A new glossary of Greek grammatical terms helps students make sense of the technical concepts used in language study
A revised set of Greek word tables, keyed to the analytical lexicon, gives a detailed overview of the entire system of New Testament word formation
About the Editors:
Maurice A. Robinson (PhD, Southwestern Baptist Theological Seminary) is Senior Professor of New Testament at Southeastern Baptist Theological Seminary in Wake Forest, North Carolina. He is co-editor of
The New Testament in the Original Greek: Byzantine Textform
(2005) and
The Greek New Testament for Beginning Readers: Byzantine Textform
(2010).
Mark A. House (PhD, Fuller Theological Seminary) is Professor of Biblical Studies at New Geneva Theological Seminary in Colorado Springs, Colorado, and the Director of the Online Greek Program at Reformed Theological Seminary, Virtual. He is the editor of
Analytical Lexicon of New Testament Greek: Revised and Updated
(2012) as well as
The Compact Greek-English Lexicon of the New Testament
(2008).
Endorsements
Entries are from the Compact Greek-English Lexicon of the New Testament, revised and edited by Mark A. House (Biblical studies, New Geneva Theological Seminary, Colorado). House worked collaboratively on this volume with Maurice A. Robinson (New Testament studies, Southeastern Baptist Theological Seminary, North Carolina), who assembled over decades a digitized database incorporating the Received Text as well as later editions of the New Testament text. They explain the purposes of this work as follows: to help readers identify and analyze Greek words, strengthen grammatical understanding, and benefit from elucidation of word meanings and the unlocking of morphological significance.
The lexicon contains three other helpful appendices: one that lists the Greek Strong's tag and their corresponding page and column number for quick reference, one that lists the six principal parts of the most common Greek verbs, and one that is a glossary of Greek grammatical terms, providing the student with a quick reference for defining many of the myriad grammatical terms that pop up in first-year grammars. These appendices work as a supplement to a beginning Greek grammar, setting this analytical lexicon apart not only as just an analytical lexicon, but a valuable resource that provides additional information for beginning students of New Testament Greek.