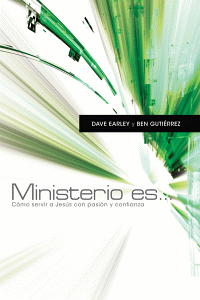 Ministerio es . . .
Cómo servir a Jesús con Pasión y Confianza
This title works with the following Wordsearch products
Desktop
Product Details
¿Cuál es el ministerio? Ministerio está lanzando coronas a los pies de la Dignidad. Es el desbordamiento de su relación con Jesús. Se está lavando los pies, amar a la gente, hacer discípulos, y más.
En docenas de breves pero poderosos capítulos, Ministerio Is. . . presenta una guía basada en la Biblia procesable para servir a Dios en la iglesia local. Los puntos de vista aquí de autores de Dave Earley y Ben Gutierrez son perfectos para aquellos que están considerando ministerio de la iglesia como una vocación y aplicable a cualquier persona que desee servir intencionalmente a través de la iglesia.
Con cada entrada, se quedan láser enfocado en hacer que el lector "un agente de cambio espiritual, un fabricante de diferencia, y el jugador de impacto para Jesucristo."
Acerca de los Autores
Dave Earley es pastor principal de la Iglesia de la Gracia de la ciudad de Las Vegas , Nevada. También se desempeña como profesor adjunto de Liderazgo Pastoral de Liberty Baptist Theological Seminary en Lynchburg, Virginia.
Ben Gutiérrez es decano administrativo para los programas de pregrado en la Universidad Liberty en Lynchburg, Virginia. Tiene un doctorado en Liderazgo Organizacional y Divinidad de la Universidad Regent.
Endorsements
Este libro es como una charla pastoral. Se va a desafiar a la manera de pensar y el plomo.
No puedo pensar en dos hombres jóvenes más cualificados para escribir un best- seller en el tema Cómo Servir a Jesús con pasión y confianza.
Los autores están en 'Game On! "Modo en cada capítulo . Ellos saben que una gran iglesia no se trata de tener gran gran talento, pero los líderes que tienen grandes corazones grandes siervos.