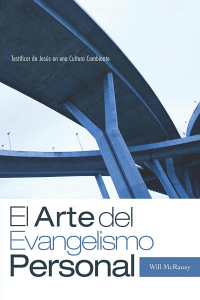 El Arte del Evangelismo Personal
Testificar de Jesus en una Cultura Cambiante
This title works with the following Wordsearch products
Desktop
Product Details
La extensión del Reino de Dios siempre ocurre de la misma manera: alguien se comunica eficazmente con otra persona sobre Jesucristo y su mensaje.
El evangelismo personal es el cimiento de todo el crecimiento de la iglesia. A medida que cambian la cultura y las características del mundo moderno, las personas buscan obtener respuestas espirituales para las preguntas más importantes de la vida. Sin embargo, en el crecientemente hacinado mercado de las ideas espirituales, la gente se interesa cada vez menos en la iglesia.
Will McRaney aborda este problema con la solución más profunda. Si el Reino de Dios va a extenderse, cada cristiano en particular deberá aprender a comunicar su fe de una manera atractiva, personal y pertinente a la cultura contemporánea receptiva.
The extension of the Kingdom of God always occurs in the same way: communicate effectively with someone else about Jesus and his message.
Personal evangelism is the foundation of all church growth. As you change the culture and characteristics of the modern world, people seek to obtain spiritual answers to the most important questions of life. However, in the increasingly crowded market of spiritual ideas, people are increasingly interested in the church.
Will McRaney addresses this problem. If the Kingdom of God will spread, every Christian in particular must learn to communicate their faith in an attractive, personal and relevant to contemporary culture receptive way.
Sobre el Autor
Will McRaney Jr. es el equipo de estrategia para la plantación del equipo de la Convención Bautista de Florida Iglesia Anglo . Tiene un doctorado de Nueva Orleans Baptist Theological Seminary .