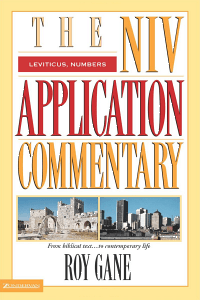 The NIV Application Commentary: Leviticus, Numbers
This title works with the following Wordsearch products
Desktop
Product Details
Leviticus/Numbers, which is part of the NIV Application Commentary Series, helps readers learn how the message of Leviticus and Numbers can have the same powerful impact today that they did when they were first written.
Most Bible commentaries take us on a one-way trip from our world to the world of the Bible. But they leave us there, assuming that we can somehow make the return journey on our own. In other words, they focus on the original meaning of the passage but don't discuss its contemporary application. The information they offer is valuable—but the job is only half done! The NIV Application Commentary Series helps us with both halves of the interpretive task. This new and unique series shows readers how to bring an ancient message into a modern context. It explains not only what the Bible means but also how it can speak powerfully today.
About the Author
Roy Gane (PhD, University of California, Berkeley) is professor of Hebrew Bible and ancient near eastern languages at the Theological Seminary of Andrews University. He is author of a number of scholarly articles and several books including God's Faulty Heroes (Review Herald, 1996-on the biblical book of Judges), Altar Call (Diadem, 1999-on the Israelite sanctuary services and their meaning for Christians), Ritual Dynamic Structure (Gorgias Press, 2004), Leviticus, Numbers (NIV Application Commentary; Zondervan, 2004), and Cult and Character: Purification Offerings, Day of Atonement, and Theodicy (Eisenbrauns, 2005), as well as the Leviticus portion of the Zondervan Illustrated Bible Backgrounds Commentary on the Old Testament (forthcoming). Dr. Gane and his wife, Connie Clark Gane, who is pursuing a Ph.D. in Mesopotamian archaeology at the University of California, Berkeley, have one daughter, Sarah Elizabeth.
Endorsements
This series promises to become an indispensable tool for every pastor and teacher who seeks to make the Bible's timeless message speak to this generation.