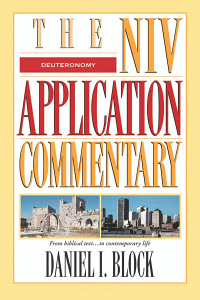 The NIV Application Commentary: Deuteronomy
This title works with the following Wordsearch products
Desktop
Product Details
Arranged as a series of sermons, the book of Deuteronomy represents the final major segment of the biography of Moses. The sermons review events described in earlier books and challenges Israel to faithful living in the future.
The theological significance of Deuteronomy cannot be overestimated. Few books in the Bible proclaim such a relevant word of grace and gospel to the church today. At its heart, Deuteronomy records the covenantal relationship between God and his people. God graciously has chosen Israel as his covenant partner and has demonstrated his covenantal commitment to them. Moses challenges the Israelites to respond by declaring that Yahweh alone is their God and by demonstrating unwavering loyalty and total love for him through obedience.
Daniel Block highlights the unity between the God depicted in Deuteronomy and Jesus Christ. Christians who understand the covenantal character of God and who live under the grace of Christ will resist the temptation to retreat into interior and subjective understandings of the life of faith so common in Western Christianity.
Most Bible commentaries take us on a one-way trip from our world to the world of the Bible. But they leave us there, assuming that we can somehow make the return journey on our own. In other words, they focus on the original meaning of the passage but don't discuss its contemporary application. The information they offer is valuable—but the job is only half done! The NIV Application Commentary Series helps us with both halves of the interpretive task. This new and unique series shows readers how to bring an ancient message into a modern context. It explains not only what the Bible means but also how it can speak powerfully today.
About the Author
Daniel I. Block (D.Phil, University of Liverpool) is Gunther H. Knoedler Professor of Old Testament, Wheaton College.
Endorsements
This series promises to become an indispensable tool for every pastor and teacher who seeks to make the Bible's timeless message speak to this generation.