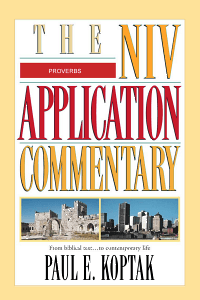 The NIV Application Commentary: Proverbs
This title works with the following Wordsearch products
Desktop
Product Details
What is wisdom? Does occupying the top of life's heap mean you have it? Does being near the bottom mean you don't? Wisdom can certainly help you acquire wealth, influence people, or succeed at your career, yet it involves more than knowledge alone. It's also a matter of understanding God's perspectives in applying what you know and having the character to act accordingly. That is why true wisdom—the kind that begins with fear of the Lord—frequently runs counter to what our culture values and applauds. This is the wisdom the book of Proverbs teaches. Proverbs deals with the relationship between heaven and earth on a practical level that covers the broad swath of human activity. We could all use more wisdom in our lives; the book of Proverbs was designed to guide us into it. Proverbs is far from monolithic. It has multiple authors and employs diverse styles. But its goal remains simple: to equip us for living in a way that succeeds first and foremost in God's eyes. Exploring the links between the Bible and our own times, Paul Koptak shares perspectives on Proverbs that reveal ageless truths for our twenty-first-century lives.
Most Bible commentaries take us on a one-way trip from our world to the world of the Bible. But they leave us there, assuming that we can somehow make the return journey on our own. In other words, they focus on the original meaning of the passage but don't discuss its contemporary application. The information they offer is valuable—but the job is only half done! The NIV Application Commentary Series helps us with both halves of the interpretive task. This new and unique series shows readers how to bring an ancient message into a modern context. It explains not only what the Bible means but also how it can speak powerfully today.
About the Author
Paul E. Koptak (PhD, Garrett Evangelical Theological Seminary/Northwestern University) is Paul and Bernice Brandel Professor of Communication and Biblical Interpretation at North Park Theological Seminary in Chicago, Illinois.
Endorsements
This series promises to become an indispensable tool for every pastor and teacher who seeks to make the Bible's timeless message speak to this generation.