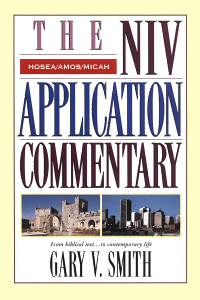 The NIV Application Commentary: Hosea, Amos, Micah
This title works with the following Wordsearch products
Desktop
Product Details
Scratch beneath the surface of today's culture and you'll find we're not so different from ancient Israel. True, our sophistication, mobility, and technology eclipse anything the Israelites could have imagined. Our worship is far different, to say nothing of our language and customs. Yet if the prophets Hosea, Amos, and Micah were to visit us today, we might be shocked to see how little their messages would differ from the ones they delivered 2,800 years ago. For human hearts are still the same--and so is God. Injustice, oppression, and political corruption anger him as much as ever. Apostasy still grieves him. His judgment of sin remains as fierce as his love is strong. And the hope God extends to those who turn toward him is as brilliant now as at any time in history. Revealing the links between Israel eight centuries B.C. and our own times, Gary V. Smith shows how the prophetic writings of Hosea, Amos, and Micah speak to us today with relevance and conviction.
Most Bible commentaries take us on a one-way trip from our world to the world of the Bible. But they leave us there, assuming that we can somehow make the return journey on our own. In other words, they focus on the original meaning of the passage but don't discuss its contemporary application. The information they offer is valuable—but the job is only half done! The NIV Application Commentary Series helps us with both halves of the interpretive task. This new and unique series shows readers how to bring an ancient message into a modern context. It explains not only what the Bible means but also how it can speak powerfully today.
About the Author
Gary V. Smith currently serves as a professor of Christian Studies at Union University in Jackson, Tennessee. He has held previous professorships at Midwestern Baptist Theological Seminary, Bethel Theological Seminary, and Winnipeg Theological Seminary. He completed his Bachelor's degree at Wheaton College in Anthropology, his Master's at Trinity Evangelical Divinity School, and his Doctorate at Dropsie College for Hebrew and Cognate Languages. A member of the Evangelical Theological Society, the Institute for Biblical Research, and the Society of Biblical Literature, Dr. Smith is an expert in the Old Testament Prophets and the books of Ezra, Nehemiah, and Esther. He is the author of numerous books and lives with his wife in Tennessee.
Endorsements
This series promises to become an indispensable tool for every pastor and teacher who seeks to make the Bible's timeless message speak to this generation.