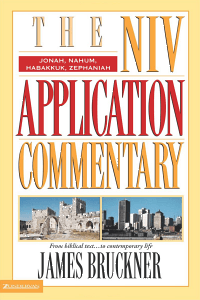 The NIV Application Commentary: Jonah, Nahum, Habakkuk, Zephaniah
This title works with the following Wordsearch products
Desktop
Product Details
The prophetic books Jonah, Nahum, Habakkuk, and Zephaniah are brief but powerful. They comfort us with the assurance that, when nothing in this life makes sense, God is still in control. They toughen our faith in the face of the world's ugly realities. And they reveal the complexities of humans in relation to God. Jonah ran from his divine commission. Habakkuk questioned God concerning his ways. Repenting under Jonah's message, the city of Ninevah ultimately backslid and reaped the doom prophesied by Nahum. And Zephaniah's "remnant" depicts a faith that remains faithful. We needn't look too hard to find our own world and concerns mirrored in these books. Exploring the links between the Bible and our own times, James Bruckner shares perspectives on four of the Minor Prophets that reveal their enduring relevance for our twenty-first-century lives.
Most Bible commentaries take us on a one-way trip from our world to the world of the Bible. But they leave us there, assuming that we can somehow make the return journey on our own. In other words, they focus on the original meaning of the passage but don't discuss its contemporary application. The information they offer is valuable—but the job is only half done! The NIV Application Commentary Series helps us with both halves of the interpretive task. This new and unique series shows readers how to bring an ancient message into a modern context. It explains not only what the Bible means but also how it can speak powerfully today.
About the Author
James Bruckner (PhD, Luther Seminary) is professor of Old Testament at North Park Theological Seminary and the author of several books including a commentary on Exodus (2008) and Healthy Human Life: A Biblical Witness (2012).
Endorsements
This series promises to become an indispensable tool for every pastor and teacher who seeks to make the Bible's timeless message speak to this generation.