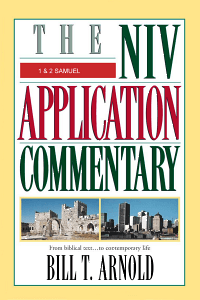 The NIV Application Commentary: 1 & 2 Samuel
This title works with the following Wordsearch products
Desktop
Product Details
Why do the books of Samuel pack such broad appeal? Taken together as a single narrative, they certainly offer something for everyone: kings and prophets, great battles and greater heroes, action and romance, loyalty and betrayal, the mundane and the miraculous. In Samuel, we meet Saul, David, Goliath, Jonathan, Bathsheba, the witch of Endor, and other unforgettable characters. And we encounter ourselves. For while the culture and conditions of Israel under its first kings is vastly different from our own, the basic issues of humans in relation to God, the Great King, have not changed. Sin, repentance, forgiveness, adversity, prayer, faith, and the promises of God—these continue to play out in our lives today. Exploring the links between the Bible and our own times, Bill T. Arnold shares perspectives on 1 and 2 Samuel that reveal ageless truths for our twenty-first-century lives.
Most Bible commentaries take us on a one-way trip from our world to the world of the Bible. But they leave us there, assuming that we can somehow make the return journey on our own. In other words, they focus on the original meaning of the passage but don't discuss its contemporary application. The information they offer is valuable—but the job is only half done! The NIV Application Commentary Series helps us with both halves of the interpretive task. This new and unique series shows readers how to bring an ancient message into a modern context. It explains not only what the Bible means but also how it can speak powerfully today.
About the Author
Bill T. Arnold (PhD, Hebrew Union College) is director of Hebrew studies and professor of Old Testament and Semitic languages at Asbury Theological Seminary in Wilmore, Kentucky. He is the author of Encountering the Book of Genesis, and coauthor of Encountering the Old Testament, and A Guide to Biblical Hebrew Syntax. He and his wife, Susan, have three sons and live in Lexington, Kentucky.
Endorsements
This series promises to become an indispensable tool for every pastor and teacher who seeks to make the Bible's timeless message speak to this generation.
If you want to avoid hanging application elephants from interpretive threads then the NIV Application Commentary is for you! This series excels at both original meaning and contemporary significance. I support it one hundred percent.
The NIV Application Commentary Series promises to be of very great service to all who preach and teach the Word of God.
The NIV Application Commentary Series will be a gret help for leaders who wants to understand what the Bible means, how it appies, and what they should do in response.
Some commentaries build walls that isolate you back in the ancient world. The NIV Application Commentary builds bridges that make the Bible come alive with meaning for contemporary lift—and the series does so concisely, clearly, and accurately. No wasted words or academic detours—just solid help and practical truth!