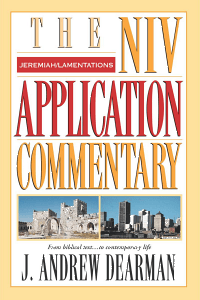 The NIV Application Commentary: Jeremiah, Lamentations
This title works with the following Wordsearch products
Desktop
Product Details
The books of Jeremiah and Lamentations cannot be separated from the political conditions of ancient Judah. Beginning with the righteous king Josiah, who ushered in a time of glorious but brief religious reform, Jeremiah reflects the close tie between spiritual and political prosperity or disaster, between the actions and heart of Judah and her kings and their fortunes as a nation. While few of us today have any firsthand understanding of what it means to live in a theocracy, the central theme of Jeremiah and Lamentations remains clear and still holds true: God first, politics second. The words, prayers, and poems of "the weeping prophet" serve to realign us with God's priorities, turning us from evil and encouraging us to pursue God and his ways. With emotion and spiritual depth, these prophetic writings beckon us toward a spiritual integrity that can still affect the course of individuals and nations today.
Most Bible commentaries take us on a one-way trip from our world to the world of the Bible. But they leave us there, assuming that we can somehow make the return journey on our own. In other words, they focus on the original meaning of the passage but don't discuss its contemporary application. The information they offer is valuable—but the job is only half done! The NIV Application Commentary Series helps us with both halves of the interpretive task. This new and unique series shows readers how to bring an ancient message into a modern context. It explains not only what the Bible means but also how it can speak powerfully today.
About the Author
J. Andrew Dearman (PhD, Emory University) is director of Fuller Texas, located in Houston TX, associate dean of the School of Theology in Pasadena, CA, and professor of Old Testament. He has worked on archaeological projects in Israel and Jordan. He has written Property Rights in the Eighth-Century, Prophets, and Religion and Culture in Ancient Israel, and has also edited and contributed to several books.
Endorsements
This series promises to become an indispensable tool for every pastor and teacher who seeks to make the Bible's timeless message speak to this generation.