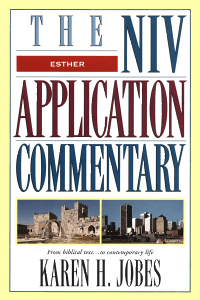 The NIV Application Commentary: Esther
This title works with the following Wordsearch products
Desktop
Product Details
Most Bible commentaries take us on a one-way trip from our world to the world of the Bible. But they leave us there, assuming that we can somehow make the return journey on our own. In other words, they focus on the original meaning of the passage but don't discuss its contemporary application. The information they offer is valuable—but the job is only half done! The NIV Application Commentary Series helps us with both halves of the interpretive task. This new and unique series shows readers how to bring an ancient message into a modern context. It explains not only what the Bible means but also how it can speak powerfully today.
About the Author
Karen H. Jobes (PhD, Westminister Theological Seminary) is the Gerald F. Hawthorne Professor of New Testament Greek and Exegesis at Wheaton College and Graduate school in Wheaton, Illinois. The author of several works, she is also involed in Bible translation. She and her husband, Forrest, are members of Immanuel Presbyerian Church, an EPC church in Warrenville, Illinois.
Endorsements
This series promises to become an indispensable tool for every pastor and teacher who seeks to make the Bible's timeless message speak to this generation.