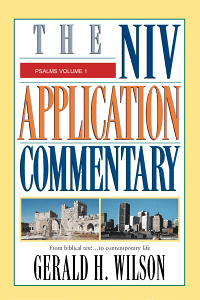 The NIV Application Commentary: Psalms Volume 1
This title works with the following Wordsearch products
Desktop
Product Details
Perhaps more clearly than any other part of the biblical canon, the Psalms are human words directed to God. Yet, through the Holy Spirit, these honest, sometimes brutal words return to us as the Word of God. Their agonies and exaltations reflect more than the human condition in which they were created. Within the context of the canonical Psalter, they become the source of divine guidance, challenge, confrontation, and comfort. However, it is possible to misapply them. How can we use the Psalms in a way that faithfully connects God's meaning in them and his intentions for them with our circumstances today? Drawing on over twenty years of study in the book of Psalms, Dr. Gerald H. Wilson reveals the links between the Bible and our present times. While he considers each psalm in itself, Wilson goes much further, examining whole groups of psalms and, ultimately, the entire Psalter, its purpose, and its use from the days of Hebrew temple worship onward through church history. In so doing, Wilson opens our eyes to ageless truths for our twenty-first-century lives.
Most Bible commentaries take us on a one-way trip from our world to the world of the Bible. But they leave us there, assuming that we can somehow make the return journey on our own. In other words, they focus on the original meaning of the passage but don't discuss its contemporary application. The information they offer is valuable—but the job is only half done! The NIV Application Commentary Series helps us with both halves of the interpretive task. This new and unique series shows readers how to bring an ancient message into a modern context. It explains not only what the Bible means but also how it can speak powerfully today.
About the Author
Gerald H. Wilson (PhD, Yale University) was professor of Old Testament and biblical Hebrew at Azusa Pacific University. He wrote The Editing of the Hebrew Psalter and has written numerous articles for journals, encyclopedias, and reviews.
Endorsements
This series promises to become an indispensable tool for every pastor and teacher who seeks to make the Bible's timeless message speak to this generation.