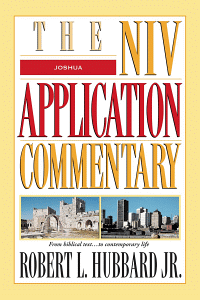 The NIV Application Commentary: Joshua
This title works with the following Wordsearch products
Desktop
Product Details
Reading Joshua can be, frankly, a jarring experience. Serious, troubling questions about God's attitude toward his created peoples arise, questions with no easy answer. But the book of Joshua presents itself, warts (and wars!) and all, and asks readers to let it tell its story from its point of view and out of its ancient context. It asks them to give it the benefit of the doubt and permit it to speak to them. This commentary aims to give its voice a clear hearing — to translate its ancient cultural form in such a way that it freely speaks about the life of faith today. Basically, the book of Joshua tells how biblical Israel navigated a major historical transition early in its national life. The book shows that guiding these changes is Israel's God, Yahweh, through his chosen servant, Joshua. The introductory sections to follow set the scene for entering the book of Joshua and the ancient world about which it reports.
Most Bible commentaries take us on a one-way trip from our world to the world of the Bible. But they leave us there, assuming that we can somehow make the return journey on our own. In other words, they focus on the original meaning of the passage but don't discuss its contemporary application. The information they offer is valuable—but the job is only half done! The NIV Application Commentary Series helps us with both halves of the interpretive task. This new and unique series shows readers how to bring an ancient message into a modern context. It explains not only what the Bible means but also how it can speak powerfully today.
About the Author
Robert L. Hubbard, Jr. (PhD, Claremont Graduate School) is Professor of Biblical Literature at North Park Theological Seminary in Chicago, IL. He also taught at Denver Seminary and served as a chaplain on active duty in the United States Navy and in the United States Naval Reserve. Dr. Hubbard is author of The Book of Ruth: New International Commentary on the Old Testament (Eerdmans, 1988), which received the Christianity Today Critics Choice Award as the best commentary of 1989. He co-authored Introduction to Biblical Interpretation (Word, 1993), with William Klein and Craig Blomberg, and is currently writing commentaries on Esther and Lamentations for the New International Commentary on the Old Testament, a series on which he serves as general editor. He is ordained by the Evangelical Free Church of America. He and his wife Pam reside in Chicago.
Endorsements
This series promises to become an indispensable tool for every pastor and teacher who seeks to make the Bible's timeless message speak to this generation.