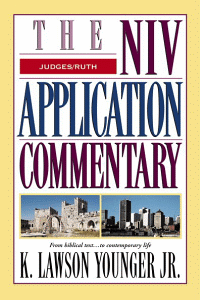 The NIV Application Commentary: Judges, Ruth
This title works with the following Wordsearch products
Desktop
Product Details
The concept of judgment is at odds with today's culture, which considers it a sin to suggest there is such a thing as sin. Perhaps that is partly because we have seen all too clearly the fallibility of those who judge. What many of us long for is not judgment but righteousness and deliverance from oppression. That is why the books of Judges and Ruth are so relevant today: Judges, because it reveals a God who employs very human deliverers but refuses to gloss over their sins and the consequences of those sins; and Ruth, because it demonstrates the far-reaching impact of a righteous character. Exploring the links between the Bible and our own times, Dr. K. Lawson Younger Jr. shares literary perspectives on the books of Judges and Ruth that reveal ageless truths for our twenty-first-century lives.
Most Bible commentaries take us on a one-way trip from our world to the world of the Bible. But they leave us there, assuming that we can somehow make the return journey on our own. In other words, they focus on the original meaning of the passage but don't discuss its contemporary application. The information they offer is valuable—but the job is only half done! The NIV Application Commentary Series helps us with both halves of the interpretive task. This new and unique series shows readers how to bring an ancient message into a modern context. It explains not only what the Bible means but also how it can speak powerfully today.
About the Author
K. Lawson Younger, Jr. (PhD, University of Sheffield) is professor of Old Testament, Semitic languages, and ancient near eastern history at Trinity Evangelical Divinity School in Deerfield, Illinois. He is the author, associate editor, and co-editor of several books, and has contributed to numerous collections of essays, dictionaries, and periodicals.
Endorsements
This series promises to become an indispensable tool for every pastor and teacher who seeks to make the Bible's timeless message speak to this generation.