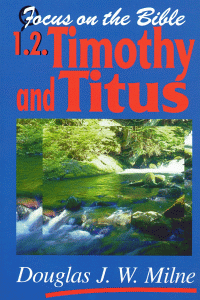 Focus on the Bible: 1 & 2 Timothy & Titus
This title works with the following Wordsearch products
Desktop
Highlights
Highly focused introduction
Focused applications
Probing questions and recommendations to advance your studies further
Product Details
The Focus on the Bible Commentaries are ideal for preaching, teaching, and personal Bible study. The chapter-by-chapter commentary exposition will help you discover the culture and the audience of the passage, the biblical author's intentions, and how to apply the text to your life today. These commentaries waste no words in distilling Bible truths and drilling down to the essential lessons that each verse offers.
This volume on Timothy and Titus, otherwise known as the "Pastoral Epistles," addresses issues revolving around church life. This Focus on the Bible Commentary shows you how these first century letters from Paul are as relevant today as they were when they were written. They were Paul's last letters were Paul's last before his martyrdom, and the issues addressed in these letters were high priority for him as he left instructions to his "sons in the faith," Timothy and Titus.
Some of the contemporary issues addressed include:
The inspiration and authority of Scripture
The characteristics of church leaders
The role of women
The nature of holiness
This fresh commentary really does what it promises - it helps you to FOCUS on Timothy & Titus.This focused approach is very helpful, inspiring, and ideal for sermon and lesson preparation.
Check out a sample of this book by clicking on the yellow "Sample" button under the book cover on this page.
About the Author
Douglas J. W. Milne has degrees in arts and divinity from Aberdeen University. He teaches New Testament in the Presbyterian Theological College, Melbourne where he also lectures in theology, ethics and philosophy. He also pastors an inner-city congregation in Melbourne.