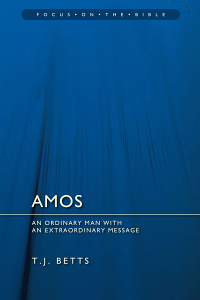 Focus on the Bible: Amos
An Ordinary Man with an Extraordinary Message
This title works with the following Wordsearch products
Desktop
Highlights
Highly focused introduction
Focused applications
Probing questions and recommendations to advance your studies further
Product Details
The Focus on the Bible Commentaries are ideal for preaching, teaching, and personal Bible study. The chapter-by-chapter commentary exposition will help you discover the culture and the audience of the passage, the biblical author's intentions, and how to apply the text to your life today. These commentaries waste no words in distilling Bible truths and drilling down to the essential lessons that each verse offers.
While Amos could be considered ordinary, God called him to speak out with an extraordinary message. His career was overseeing Herdsmen and he wasn't related to a prophet or trained to be one. In spite of all that, he was sent by the Lord from the south up to to Samaria to bring His message to the Northern Kingdom.
The Lord called Amos to speak at a time of national disunity, military superiority, economic prosperity, and religious activity. In the midst of what might seem like a successful time, Amos lets the people know that even though they might not lack physical food, they were lacking the spiritual food of the Word of God.
Incredibly relevant to today's culture, this commentary exposits Amos, but also reminds us why it matters, and how important God's Word is in our lives today.
This fresh commentary really does what it promises - it helps you to FOCUS on Amos.This focused approach is very helpful, inspiring, and ideal for sermon and lesson preparation.
Check out a sample of this book by clicking on the yellow "Sample" button under the book cover on this page.
About the Author
T. J. Betts serves as an Associate Professor of Old Testament Interpretation at The Southern Baptist Theological Seminary, Louisville, Kentucky
Endorsements
Books on the Old Testament tend to be either technical and tedious or superficial and moralistic. Once in a while we discover one that breaks the mould. T. J. Betts has done it! He tells us not only what Amos means but also why it matters. He proves again that the expositor's task is not to make the Bible relevant, but to simply show how relevant it is!
What a wonderful gift to the pastor who wants to allow the text of Scripture to drive his sermon. T.J. Betts' commentary will be ready at hand when I prepare to teach from the prophet Amos. It is a treasure trove for the serious expositor.
T. J. Betts comes to the text of Amos with a scholarly mind and a pastoral heart. His judgments about the text are carefully considered and sound, and his prose is warm and direct. Pastors who have found the task of preaching from the prophets daunting will discover in this volume helpful material for historical background, theological interpretation, and homiletical application.
I have known T. J. Betts for a number of years. He was raised in a pastor's home, and he is a pastor/scholar who writes for the local church. Using personal illustrations and practical applications in this commentary, he shows how the writings of an eighth-century B.C. prophet still speak to the 21st century church.