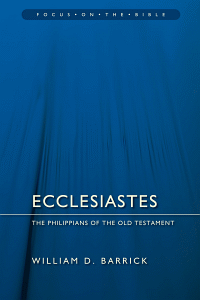 Focus on the Bible: Ecclesiastes
The Philippians of the Old Testament
This title works with the following Wordsearch products
Desktop
Highlights
Highly focused introduction
Focused applications
Probing questions and recommendations to advance your studies further
Product Details
The Focus on the Bible Commentaries are ideal for preaching, teaching, and personal Bible study. The chapter-by-chapter commentary exposition will help you discover the culture and the audience of the passage, the biblical author's intentions, and how to apply the text to your life today. These commentaries waste no words in distilling Bible truths and drilling down to the essential lessons that each verse offers.
This Focus on the Bible Commentary offers biblical exposition on the teachings of Ecclesiastes. Ecclesiastes asks, what is the purpose of life? The writer of the book searches out ways to find the answer to life's meaning. But after trying everything in man's limited worldview, all that's found is pure emptiness.
Many of us know people who are searching for this same thing, or have been there ourselves. This commentary will help us to learn how to look beyond ourselves to what has eternal value. By doing this, we can provide hope to those searching and know that God has a design and purpose for all things. By studying the teachings on doctrines such as man, salvation, and future judgement, we can be led to the giver of all life.
This fresh commentary really does what it promises - it helps you to FOCUS on Ecclesiastes.This focused approach is very helpful, inspiring, and ideal for sermon and lesson preparation.
Check out a sample of this book by clicking on the yellow "Sample" button under the book cover on this page.
About the Author
William Barrick is Professor of Old Testament at Master's Seminary, Sun Valley, California. Dr. Barrick has been married to his wife Barbara for 45 years. They have four married children and fourteen grandchildren.
Endorsements
...sound, biblical exposition of an often neglected but very relevant Old Testament book.