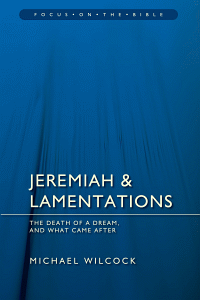 Focus on the Bible: Jeremiah and Lamentations
The Death of a Dream and What Came After
This title works with the following Wordsearch products
Desktop
Highlights
Highly focused introduction
Focused applications
Probing questions and recommendations to advance your studies further
Product Details
The Focus on the Bible Commentaries are ideal for preaching, teaching, and personal Bible study. The chapter-by-chapter commentary exposition will help you discover the culture and the audience of the passage, the biblical author's intentions, and how to apply the text to your life today. These commentaries waste no words in distilling Bible truths and drilling down to the essential lessons that each verse offers.
This Focus on the Bible Commentary is clearly written, using sound exegesis. The books of Jeremiah and Lamentations are sometimes neglected because they seem so daunting, but they both have important messages for us. Written with a pastoral perspective, this volume is a great resource, shedding light on the practical applications of these books.
Jeremiah was a prophet to the nations, called by God to share His message to people who most likely didn't want to hear it.. He wasn't afraid to call them out and tell them they were headed for judgement. He bravely took on the challenge of sharing the Lord's message.
Lamentations tells the story of Jerusalem's suffering, starvation, and despair before the city is torched and the survivors deported.
What does this have to do with us today? These books teach us our responsibility to share the message of God, that He still loves them when they have sinned against Him. And that we can still find hope in times of suffering.
This fresh commentary really does what it promises - it helps you to FOCUS on Jeremiah & Lamentations.This focused approach is very helpful, inspiring, and ideal for sermon and lesson preparation.
Check out a sample of this book by clicking on the yellow "Sample" button under the book cover on this page.
About the Author
Michael Wilcock is a respected author and Bible teacher. He has spent many years in pastoral ministry including his most recent charge, St Nicholas, Durham. He was formerly Director of Pastoral Studies at Trinity College, Bristol.
Endorsements
It is a pleasure to commend this fine piece of commentary writing by Michael Wilcock. Over the years he has produced many commentaries on both Testaments, including some fine examples in the BST series. Here he has lost none of his touch as with sure-footed exegesis, spiritual insight and elegant writing he tackles the difficult books of Jeremiah and Lamentations. All Bible readers will profit from reading these books with a sympathetic and knowledgeable guide. However, they will also be of great use to preachers who will find themselves stimulated, enlightened and emboldened to tackle these often neglected books in the company of an experienced and erudite preacher.
In this book, Michael Wilcock has done a real service to students of Scripture: he has made Jeremiah and Lamentations accessible and applicable. From page 1, it is clear that the reader is in the hands of a careful scholar and faithful guide to the life and writings of the prophet Jeremiah. In short, this is a wonderful resource for anyone who wants to preach, teach, or simply study these sometimes intimidating books. When people in my church ask for a resource to help them read Jeremiah and Lamentations, this book will be at the top of my list!
Michael Wilcock's thorough and creative exposition of the books of Lamentations and Jeremiah is a joy to read. His clear style and pastoral perspective provide a valuable resource for preachers in the pulpit, teachers in the classroom, and other students of this important, and at times, difficult prophetic pair. I recommend it to those who would encounter Jeremiah's message in light of its ancient context, the redemptive work of Christ, and its application into the contemporary Christian life.