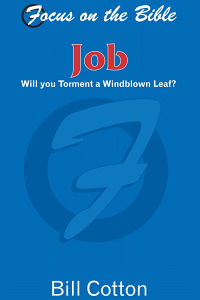 Focus on the Bible: Job
Will You Torment a Windblown Leaf?
This title works with the following Wordsearch products
Desktop
Highlights
Highly focused introduction
Focused applications
Probing questions and recommendations to advance your studies further
Product Details
The Focus on the Bible Commentaries are ideal for preaching, teaching, and personal Bible study. The chapter-by-chapter commentary exposition will help you discover the culture and the audience of the passage, the biblical author's intentions, and how to apply the text to your life today. These commentaries waste no words in distilling Bible truths and drilling down to the essential lessons that each verse offers.
This Focus on the Bible Commentary zooms in on the book of Job, a poetic masterpiece. Some might say it is one of the most original poems ever written. The story is one of the most dramatic illustrations in the Bible of the relationship between God, man, and Satan.
While written in ancient times, Job has themes that are applicable to us today. Some of them include:
The suffering of the innocent
Justification by faith
Patience under testing
The tragedy of life in a fallen world
The incomprehensibility of God's dealings with man
This volume is a fascinating study on a fascinating book. Beyond providing insight, the author, Bill Cotton, has added highlight boxes throughout the commentary that discuss basic problems and the flow of thought throughout the commentary.
This fresh commentary really does what it promises - it helps you to FOCUS on Job.This focused approach is very helpful, inspiring, and ideal for sermon and lesson preparation.
Check out a sample of this book by clicking on the yellow "Sample" button under the book cover on this page.
About the Author
Bill Cotton is the author of Focus on the Bible: Job.