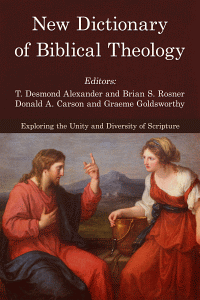 New Dictionary of Biblical Theology
Highlights
215 authoritative articles
Contributors drawn from the front ranks of evangelical scholarship in the English-speaking world
Fearures tightly focused articles on biblical-theological themes (prayer, election, justification)
Features expansive articles on major issues in biblical theology (salvation history, NT use of OT)
Features articles highlighting the theology of each biblical book
Treats Scripture as a coherent revelation of God's will and purposes while recognizing the diversity of Biblical testimony
Most articles address the contemporary significance of their topic
Includes helpful bibliographies and cross-references
Product Details
This original and authoritative dictionary concentrates upon theology - its biblical basis, systematic expression and historical development. The aim has been to provide a concise reference tool without in any way curtailing the comprehensive treatment of theological subjects.
Here are articles on such intriguing topics as the theology of African Independent Churches, new religious movements, Dutch Reformed theology in South Africa, black consciousness and human rights, and such interesting figures as Jacques Ellul, Abraham Kuyper, Michael Polanyi and Teilhard de Chardin.
Here too is reliable information on a wide range of subjects of interest to the general readers - abortion, angels, baptism in the Spirit, Bible translation, punishment, the sovereignty of God and many more.
Contributors to the New Dictionary of Theology are a team of international scholars. Totalling over two hundred, they are drawn from all five continents and many are acknowledged experts in their fields.
The New Dictionary of Biblical Theology combines excellence in scholarship with a high standard of clarity and profound insight into current theological issues. Yet it avoids being unduly technical. Students, teacher and ministers, as well as scholars and everyone who desires to have an informed and biblically controlled approach to speaking about God and his works, will value it as an indispensable work of reference.
The worth of this fine volume is enhanced by the spacious layout and superb design, an extensive and easy-to-use cross-reference system and carefully-drawn-up bibliographies in which special attention is paid to featuring the best and most readily available works in English.
About the Editors
T. Desmond Alexander is senior lecturer in biblical studies and director of postgraduate studies at Union Theological College in Belfast, Northern Ireland. From 1980 to 1999, he was lecturer in Semitic studies at the Queen's University of Belfast. His main field of research is the Pentateuch, about which he has written extensively in academic journals and books.
Brian S. Rosner is Principal of Ridley Melbourne in Melbourne, Australia. He formerly taught at Moore Theological College, Macquarie University and the University of Aberdeen. He is the author of several books.
Endorsements
The advent of the New Dictionary of Biblical Theology is both timely and highly significant. It is timely because of the increasing recognition in both scholarly and popular Christian circles of the need to integrate biblical themes, ideas and passages into the message of the Bible as a whole (whatever diversity there may be within it). The volume is important because of the quality and scope of its articles, which are helpfully divided into three sections: those dealing with fundamental issues relating to biblical theology, articles about various books and corpora of the Scriptures, and those on key biblical topics. This dictionary will be an invaluable aid to all students and teachers of the Bible who want to understand the relation of the parts to the whole thrust of the Scriptures.
At least once in each generation, change of such magnitude takes place in a field of study that standard reference books have to be revised and new ones written. What Kevin Vanhoozer has called in this volume the 'second coming' of biblical theology in the twentieth century is just such a change. It has stimulated fresh interest in the theological unity of the Bible and renewed study of themes across the whole sweep of biblical revelation. The New Dictionary of Biblical Theology is keenly attuned to this welcome development and draws on the best of contemporary evangelical scholarship. It is a quality volume, which I'm sure will become a standard reference work for all serious Bible students, especially those committed to teaching and preaching the whole Bible as Christian Scripture.
The idea that the writings of the Old and New Testaments form a coherent whole is at odds with current scholarly fashion. The Christian 'Old Testament' has become a supposedly more neutral 'Hebrew Bible,' only loosely related to the New Testament; and the emphasis on the distinctiveness of the individual biblical texts has led to a systematic neglect of their deep interrelatedness. This fragmentation of the Bible undermines its single though diverse testimony to the action of the triune God in and for the world. Evangelical scholarship has always been concerned with the whole Bible and is uniquely well placed to resist this trend toward fragmentation. The New Dictionary of Biblical Theology is a timely challenge to contemporary scholarship to reconsider its prejudice against coherence. It is a welcome sign that biblical theology continues to flourish and that reports of its demise have been greatly exaggerated.
The New Dictionary of Biblical Theology is a valuable resource for teachers, preachers and students. There are excellent surveys of key issues such as 'The Unity and Diversity of Scripture' and 'Relationship of Old Testament and New Testament,' plus more detailed articles on biblical books, themes, characters, etc. Most of those I have read reflect thorough research and breadth of knowledge. Helpful bibliographies are provided after each article. . . . The emphasis on the theological significance of the topics covered is a distinctive contribution of this work