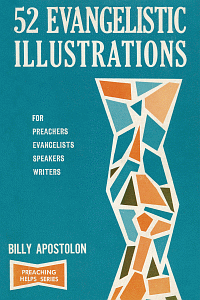 52 Evangelistic Illustrations
For Preachers, Evangelists, Speakers, Writers
This title works with the following Wordsearch products
Desktop
Product Details
Illustrations are to a sermon what windows are to a house. Windows are designed to let light into a house and illustrations are designed to let spiritual light into a sermon. A preacher makes a statement about the sermon that he is preaching, quotes a Scripture, expounds the Scripture, and if the expounding does not explain the Scripture sufficiently he uses an illustration to assist in revealing the truth to be explained.
Henry Ward Beecher, preacher, lecturer, and pastor of a Presbyterian church in Lawrenceburg, Indiana, and then of a Congregational church in Brooklyn, New York, said that illustrations served a sevenfold purpose: (1) They assist argument; (2) They help the hearer to remember; (3) They stimulate the imagination; (4) They rest the audience; (5) They provide for various classes of hearers; (6) They bridge difficult places; and (7) They enforce the truth. The illustrations in this book meet this sevenfold purpose of illustrations.
These illustrations have been gleaned from the writings of the great preachers of the world who have lived in the past generations and those who live in the present. Some have been chosen from the sermons of these men while others have been chosen from various other writings. Whenever possible we have listed the author of these illustrations and some fact about the author which will make the illustrations more useful to those who use them. We are exceedingly grateful to the various sources from which the illustrations which make up this book are taken.
These fifty-two illustrations in this book were specifically chosen to be used just before the singing of the invitation hymn. Each has an evangelistic appeal designed to stir individuals to make a spiritual decision for the Lord Jesus Christ. Here the minister of God's Word will find illustrations for fifty-two Sunday evangelistic services or fifty-two other evangelistic services. We have given titles to each illustration which we believe will be helpful to the user in choosing the proper illustrations.
These illustrations are sent forth with the prayer of the author that they may be used to enlighten individuals and encourage them to receive the Lord Jesus Christ as their personal Saviour. If this is accomplished then the labor of love spent in preparing this book will be well spent and the Lord Jesus shall have all the glory for this work which is sent forth in His precious Name.
-From the preface, by Billy Apostolon