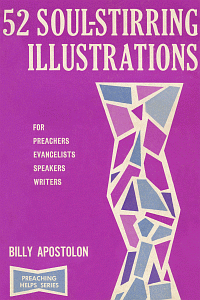 52 Soul-Stirring Illustrations
For Preachers, Evangelists, Speakers, Writers
This title works with the following Wordsearch products
Desktop
Product Details
The purpose of illustrations is to simplify Bible truths that are difficult to understand. Illustrations should not be used unless they illustrate or exhort individuals to come to the Lord. The minister of the gospel should not tell story after story without expounding the precious Word of God.
These fifty-two illustrations in this book have been chosen to stir the souls of the unsaved so that they will give their hearts and lives to the Lord Jesus Christ. Included in this volume are also illustrations designed to stir the saints so that they will render a more acceptable service to the Lord Jesus Christ.
These illustrations have been taken from the writings of great men of God and from periodicals which include: The Evangelist, The Gospel Herald, The Baptist Vision, The Sword of the Lord, Fellowship, Shield of Faith and Christian Conquest. We are exceedingly grateful for each of these sources from which these illustrations have come.
Here preachers, young and old, inexperienced and experienced will find material which simplifies and reinforces Bible truths and which we believe will bring life to the messages in which they are used.
-From the foreword