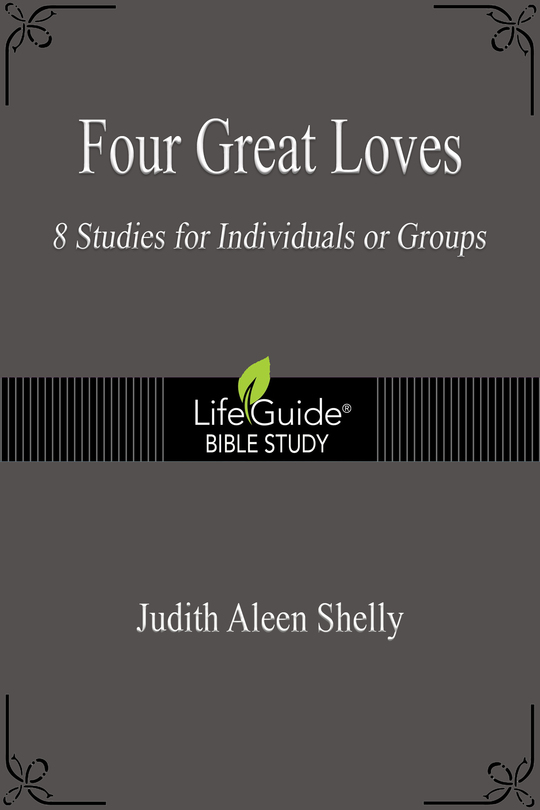 LifeGuide - Four Great Loves
8 Studies for Individuals or Groups
Product Details
We are called to four great loves:
to love God
to love God's Word
to love God's people
to love God's purposes in the world
It is both an awesome task and a glorious opportunity. God promises to equip us for it. As Judith Allen Shelly leads you through eight studies, she points out tangible ways to love and serve the God who loves you perfectly and who longs for you to know him more intimately.
This
LifeGuide Bible Study
features questions for starting group discussions and for meeting God in personal reflection, together with leader's notes and a "Now or Later" section in each study.
About the Author:
Judith Allen Shelly, RN, BSN, MA, DMin, was publications director for Nurses Christian Fellowship, director of NCF Press, and editor of the
Journal of Christian Nursing.
Her editorial work has won numerous awards from the Evangelical Press Association. Shelly has written many books including
Spiritual Care: A Guide for Caregivers
(IVP, 2000) and
The Changing Face of Health Care
(Eerdmans, 1998). Her articles have appeared in journals such as
Ethics and Medicine, Christian Counseling Today,
and
Christian Bioethics.
She has also been an adjunct professor at Yonsei University in Seoul, Korea, and at North Park University in Chicago, Illinois.