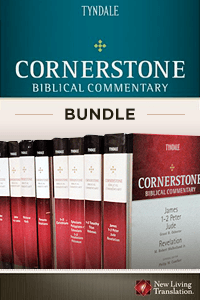 Cornerstone Biblical Commentary 20 Volume Bundle
Highlights
Features fresh expository commentary
All Greek and Hebrew words include links to the Strong's Numbering System
Includes full NLT text
Written by the scholars who worked on the NLT
Product Details
The Cornerstone Biblical Commentary offers outstanding, fresh, and accurate scholarship on every book of the Bible. It is designed to help pastors, teachers, and students of the Bible understand the meaning of the Word of God.
Written by many of the same scholars who worked on the New Living Translation (NLT) Bible, the Cornerstone Biblical Commentary is the product of years of meticulous work. Each of the nearly 40 scholars is well-known, and a wide spectrum of theological positions within the evangelical community is represented. Their time and effort will benefit you as you study the Bible. The volumes also will share the reasons behind the translation decisions made when creating the NLT.
Each volume contains a well-researched introduction that presents a full book outline and detailed, important facts about the:
author
audience
canonicity and textual history
literary style
historical reliability
book's major themes and theological concerns
The Cornerstone Biblical Commentary focuses first on the words of Scripture, then on the theological truths of Scripture. For each book of the Bible, you'll find a thorough outline and overview detailing the author, period, and cultural considerations. Each Bible passage offers a Notes section, where the commentator helps you understand the Hebrew or Greek behind the English of the NLT, which is cited at the beginning of each section. Following this is the Commentary section, where you'll find the most valuable insight.
If you love the NLT and want a high-level discussion of Scriptural interpretation that is easy to follow, the Cornerstone Biblical Commentary will be invaluable to you in your studies.
Check out a sample of this series by clicking on the Sample button.
About the General Editor
Philip W. Comfort, Ph.D., has studied English Literature, Greek, and New Testament at the Ohio State University and the University of South Africa. He has taught at a number of colleges, including Wheaton College, Trinity Episcopal Seminary, Columbia International University, and Coastal Carolina University. He is currently senior editor of Bible reference at Tyndale and served as New Testament editor for the New Living Translation. He has contributed a number of books to the Tyndale collection, both as author and editor.
Endorsements
An enormously helpful series for the layperson and pastor alike because it centers on the theological message of each book and ties it directly with the text. This approach has been needed for some time and will be an invaluable supplement to other commentary series.
A treasure house of insight into the biblical text. Written by some of the best scholars working today, it is an essential tool for pastors, students, church leaders, and lay people who want to understand the text and know how it relates to our lives today. Like the New Living Translation text it uses as its base, this commentary series is extremely readable.
Products Included In This Bundle