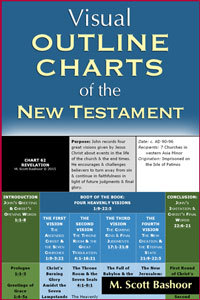 Visual Outline Charts of the New Testament
Product Details
The Visual Outline Charts for the New Testament (VOCNT) is a tool to assist in preaching, teaching, and personal Bible study. An excellent assembly of 67 visual charts will bring clarity and fresh understanding to every book of the New Testament.
Visual Aids for Preaching, Teaching, and Understanding Scripture
Crisp organization is applied to each New Testament book. Each chart is designed to guide the eye from one major heading to the next, and down into lower rows and columns for further details. Each NT book has one primary chart. Larger books have follow-up, focus charts, which drill down into sections with greater detail.
Author Scott Bashoor developed these flexible charts to be used for the following purposes:
The Pastor's Study - If you are preaching an expository series through a book, VOCNT can help with planning out the course and pace of preaching. If you are preaching topically, VOCNT can provide a helpful sense of context to the key passages selected.
Curriculum and Classroom Use - VOCNT is a useful resource for Bible courses in seminaries, colleges, Bible institutes, and group study. Many survey courses require students to read through the entirety of the NT and submit papers on the content and themes of its books. VOCNT can help students follow the author's flow of thought and better understand the whole of what they are reading.
The Believer's Personal Study - VOCNT is an enriching tool for the serious student of God's Word working through the text on his own. This digital edition is especially useful in that the reader can mouse over the Scripture references found throughout the charts and read the text intermittently with the outline chart.
Discipleship Tool - Learning to read and understand the Bible is a key part of discipleship. Many new Christians (and older ones as well) do not understand that all individual passages are part of a larger flow of thought and argument. VOCNT can be used in one-on-one or small-group discipleship settings to teach the structures and contents of God's life-transforming Word. These charts will prove especially helpful in this regard.
This is a remarkable tool that you'll want to have open alongside your favorite Bible translation.
Check out a sample by clicking on the yellow sample box underneath the book cover image.
About the Author:
M. Scott Bashoor (Ph.D. candidate) is a Faculty Associate at The Master's Seminary where he teaches courses in Bible Exposition and Old Testament languages and literature. He also pastors Bible Church of Buena Park in Orange County.