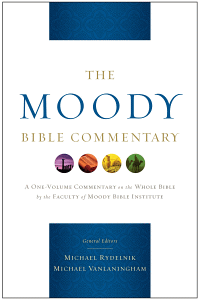 The Moody Bible Commentary
This title works with the following Wordsearch products
Desktop
Highlights
Written by a team of 30 Moody Bible Institute professors
Maps, charts, and bibliographies available for further study
Perfect for anyone who needs help understanding the Scriptures
Comprehensive and reliable reference work
Product Details
A seven year project, The Moody Bible Commentary is a single volume of excellent scholarship covering the entire Bible. Thirty Bible scholars, all faculty members of the Moody Bible Institute and Seminary, combined their unique skills and areas of expertise to make this commentary accurate, reliable, and readable by everyone.
The Moody Bible Commentary's insight on each passage of the Bible is crisp and easy to understand. The authors promise (and deliver) :
A commentary that is trustworthy.
A commentary that is understandable.
A commentary that shows the logic of biblical books.
A commentary that deals with difficult verses.
A commentary that uses a literal interpretive method and applies it consistently.
A commentary that sees the Old Testament as a messianic text.
A commentary that is based on the original languages of Scripture.
A commentary that is user-friendly.
Each book of the Bible is skillfully introduced, providing you with the historical setting, the author, the audience, and any interpretive issues.
You'll also find a well-organized outline, allowing you to trace the argument or storyline of each book. This outline is then followed throughout the text of the commentary.
The commentary takes a conservative, evangelical perspective that reaches across denominational lines. The authors tackle problem issues as they emerge in the text, and difficult passages are not ignored. Debated topics are honestly discussed, and, when scholarship yields no clear consensus as to meaning, the authors do not artificially create one.
Using The Moody Bible Commentary in Wordsearch provides you with advantages over the print edition. You can use the Topical Explorer to quickly research topics that occur in your studies. You'll also discover that the authors of this commentary expertly use thousands of Scripture verses to shed light on any passage you're studying. All of these Scripture references are hyperlinks in Wordsearch, which pop up when you hover over the link, or take you directly to each reference when you click on the link.
Since 1886, the Moody Bible Institute has been training students of the Bible to engage in evangelical ministry. D.L. Moody began this institute while ministering to people who had been left homeless from the great Chicago fire. Today, the work of Moody Bible Institute and Seminary continues as thousands are trained for ministry.
Check out a sample of this commentary by clicking on the yellow "Sample" button under the book cover on this page.
About the Editors:
Dr. Michael Rydelnik (Azusa Pacific University; Dallas Theological Seminary; Trinity International University) is Professor of Jewish Studies at Moody Bible Institute and the Bible teacher on Open Line with Dr. Michael Rydelnik, answering listener Bible questions on over 200 stations nationwide across Moody Radio. Michael served on the translation team of the Holman CSB Bible and contributed to several other books and study Bibles.
Michael Vanlaningham is professor of Bible at the Moody Bible Institute in Chicago. He received his M.Div. in Systematic Theology from Talbot Theological Seminary and his Ph.D. in New Testament and Pauline Studies from Trinity Evangelical Divinity School. He has written a number of articles for The Master's Seminary Journal as well as other publications.
Endorsements
This commentary is concise. It takes into account the latest scholarship and is directed to all who are interested in the meaning of the text. It helps all of us understand the practical application of Scripture. This will be a commentary that stays on my desk and is used often.
The Moody Bible Institute has been my proudest association for more than four decades, and The Moody Bible Commentary is one more reason why. This is the perfect resource for a layperson like me, and I expect it to inform my study, my devotions, and my writing for years to come.
I'm thrilled that The Moody Bible Commentary is available. What a tremendous resource for everyone who loves studying the Bible and values teaching the "whole counsel of God." This remarkable work provides verse by verse exposition of both the Old and New Testaments by solid, trusted evangelical scholars who believe deeply in the inerrancy of the Scriptures and power of the Word to transform lives. It is quickly becoming an invaluable part of my reference library. I highly recommend that you add it to yours.
The Moody Bible Commentary has all the ingredients—a trustworthy organization with an unshakeable confidence in God's Word, credible biblical scholarship, user-friendly language, and contemporary application. Get a copy for yourself and use it as you study God's Word for your own soul, and prepare to share its life changing message with others.
For so many people, the name "Moody" is synonymous with the word "trust." Having a Bible commentary that is written by the faculty of Moody Bible Institute means you can trust what you are reading to be accurate as well as edifying. This commentary is a "must-have" in the Parshall library.
The Moody Bible Commentary is a very readable resource, helpful to the layman, Bible study teacher, and serious student alike. The introductory material to each book provides excellent information, and the actual commentary offers a verse-by-verse explanation of the text and deals with the important words. The Moody Bible Commentary enables the reader to come to a clear understanding of Scripture that will be helpful for personal knowledge, spiritual growth, and ministry.
The Moody Bible Commentary offers a user-friendly way to understand God's Word. Christians everywhere will find it an indispensable resource for unlocking the meaning of the text. This volume is destined to become a modern classic.
Once again, Moody Publishers, the name you can trust, has provided Bible students and teachers alike a comprehensive biblical resource that will help them to understand and communicate biblical truths effectively. It is a must-read tool for every Christian's library.
Here in one volume is skillful theological wisdom and commentary from God's library of sixty-six books. This is a gift for laypeople who serve Jesus without having had the privilege of formal biblical training.
The Moody Bible Commentary is a dependable, dynamic, understandable, verse-by-verse study of the entire Bible. The contributors are teaching scholars who have given their lives to accurately teach God's Word. I can't wait to order my personal copy and learn from it.
Moody Bible is a name you can trust and this Moody Commentary is a book you can trust. It's concise, biblically solid, deals with current theological issues, and provides quality scholarship in understandable language. I highly recommend it!
What a great addition to the library of anyone who seeks to probe the riches of God's Word—for application, edification, and transformation. Who better to write it than the faculty of Moody Bible Institute! I add my enthusiastic endorsement to the many others who will find this to be a valued companion in the study of God's Word.
The Moody Bible Commentary provides the reader with a great reference, an overview, a synthesis, an outline, and detailed notes that address difficult or thorny passages. You don't have to be a scholar to benefit from this resource. One can (almost) never have too many commentaries, so add this volume to your library. It will serve you for years to come.